Listening to negative comments about work or personal life could be hurtful, primarily if the criticism is directed at something you have given your due diligence. However, it is usually an essential part of your professional life, and depending on how you take it, constructive criticism can help you grow when appropriately implemented.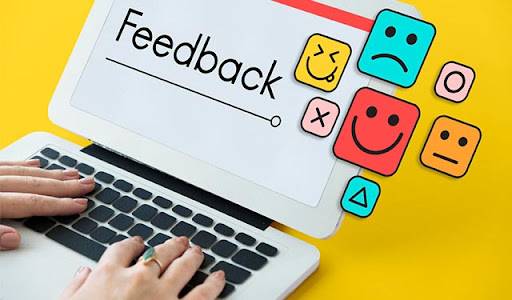 How to Handle Negative Feedback?
How you handle negative feedback can help you stand out in a crowd. Here are a few ways in which you can effectively manage negative feedback. 
Take a pause:

Although it is only natural to respond to negative feedback immediately and without thinking, you should take a breather. Calmly listen to the input first and respond after you have a reasonable reply to it.

Evaluate the feedback:

Look at the feedback objectively. It will help you get more clarity about the situation. You can also ask the person who gave you negative feedback for examples or evidence for better understanding.

Do not be defensive:

Getting into a defensive mode is one of the worst ways of reacting to any negative feedback, even if you may be feeling attacked. Separate your emotions from your reaction and respond professionally. 

Ask questions:

Precisely, you will never know if you never ask. It is best to ask as many questions as you can during the feedback meeting to understand what the critic is trying to convey to you. 
Constructive Criticism: What It is
Constructive criticism is a form of feedback that is clear, honest, direct, and easy to implement. 

It focuses more on building a person up instead of bringing them down. 

 It usually acknowledges both the positive and negative aspects of the individual and focuses on how they can improve. 

Your ability to give constructive criticism is one of the essential leadership skills as it can be more motivational than discouraging, which is usually the case with negative feedback.

In constructive criticism, the person offering the feedback usually outlines the steps that need to be taken for a better outcome in the future instead of focusing on what wrong the person committed in the present.

Constructive criticism is more effective and can generate faster results due to its direct and structured format.
How to Use Constructive Criticism?
Whether you receive constructive criticism from your boss, a co-worker, or someone you do not fully trust, it is never a good feeling. However, it is vital to realise that accurate, constructive feedback can come from any source, and one must know how to use it for one's benefit. Here are a few tips on receiving constructive criticism and understanding the use of constructive criticism. 
Avoid an initial reaction:

Maintaining a calm demeanour while listening to the feedback is essential to effectively implementing the feedback. 

Remember that there are benefits of getting feedback:

Although you may not like receiving feedback, it can affect you positively. If you take time to understand the person's perspective and motivate yourself to act upon the input, you will do better in life and work.

Say thank you, even if you disagree with the feedback

: Taking the time to be grateful for the input shows that you appreciate your colleague's effort in helping you improve in your professional endeavours.

Ask questions:

Use the feedback meeting as a time to ask more questions and share your perspective on the topic. You can even ask for a follow-up time to discuss whether or not you have implemented the feedback correctly, especially if it is about a specific topic. 
Tips to Get Over Negative Feedback and Constructive Criticism 
While positive feedback may be encouraging, hostile or harsh feedback can be demeaning and break your morale. However, it is crucial to understand that everyone makes mistakes, and there is always room for improvement. Accepting negative feedback and constructive criticism gracefully can help you improve your self-esteem, eliminate any adverse tendencies, and enrich relationships. Here are a few tips that can help you get over negative feedback and constructive criticism. 
Remember that negative feedback is not a personal attack
Anyone giving good negative feedback talks about your actions and behaviour and not about who you are. Do not let this pull you down or lower your self-confidence, as your self-worth should not be predicated on another person's opinion of you. 
Process your emotions
Having an emotional reaction is easy, but taking the time to remain calm, keep your feelings in check, and respect your critic can help you accept the feedback better and work towards faster corrective steps. 
View the feedback from the other person's perspective
Putting yourself into the shoes of your critic can help you see the situation differently. It can also help you understand the other person's point of you and realise that what is acceptable to you may not necessarily be good to others. 
Turn the negative-positive. 
Take the negative feedback you have received and find the areas that have room for improvement. Create an action plan and make the changes required, thus taking advantage of the negative situation and giving it a positive spin. 
Keep improving
Working towards your professional development is essential. Whether you do this with the help of constructive criticism or by self-reflection, finding areas that need improvement will only help you grow and succeed in your life. 
Final Words
Nothing will ever change if you do not change. By asking for feedback often and working on bettering yourself, you can prioritise your self-growth and constantly seek ways to build on your skills. Proactively asking for feedback can help you receive it incrementally instead of receiving a long list at the yearly evaluations. It will make it easier for you to address each issue and make the necessary improvements. Making small, frequent changes in your work helps you identify and rectify problems faster. 
If you ask for feedback, people around you will usually consider you more productive than those who do not. So, welcome negative feedback and constructive criticism with open arms and act on them consistently to carve out a bright future. 
Suppose you still have issues dealing with constructive criticism or negative feedback. In that case, it is best to consult the mental health professionals by United We Care to help deal with your problems more effectively. 
Copyscape