Relationships[1] are tricky and require effort, love, respect, and mutual appreciation. However, romantic relationships can get trickier because both partners must be on the same page with mutual admiration, honesty, and respect. Firstly, the relationship outline [1] is not good as it takes me for granted. Because it is difficult to determine who loves who is more in a relationship, our partner often takes us for granted. Therefore does this sound familiar?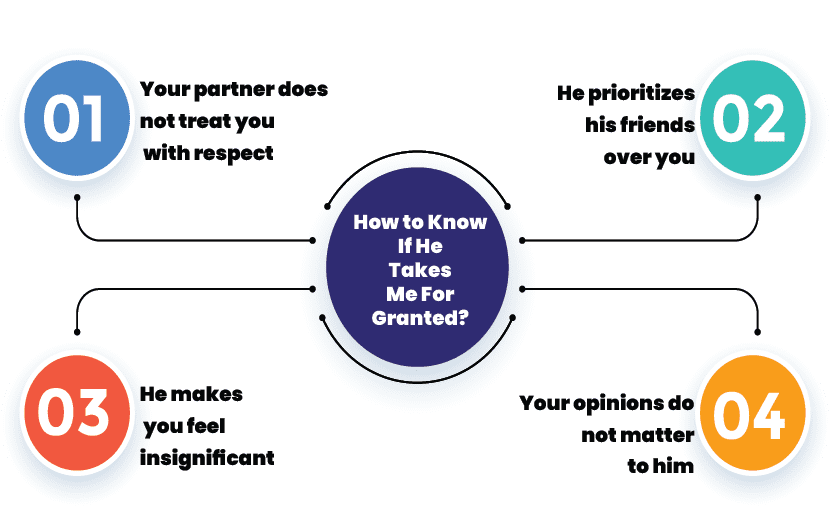 "He Takes Me For Granted" 
Although feeling that "he takes me for granted" can easily pop up in any woman's head. But also, in some cases, not just partners but even friends, family, and colleagues can take you for granted. Firstly, we understand how hurtful that is but have you ever wondered why your partner might be taking you for granted? When you say he takes me for granted, it means he doesn't appreciate or value you enough. However, it might mean a lack of gratitude or expressing their love or appreciation for you.
No matter how selfless and giving you are, you are bound to expect love, gratitude, appreciation, and praise. as a human being in a relationship[2]. However, what if your partner does not do these things? Let's delve a bit more into why he may take you for granted and what you can do to save your relationship because of love.
Relationship Issues?

Find an expert from the pool of certified professionals, therapist and wellness experts
Why Does He Take Me For Granted?
Therefore here are a few reasons to answer the question: "Why does he take me for granted?"
Believe it or not, expressing your love[3] in excess can make your partner take you for granted as they begin thinking that no matter what, you will never leave them. It may be time to rethink!
He practically rules your life.
If your partner has the power to make you smile, cry, be angry, and be happy, it is a sign that you are weak before them, causing him to take you for granted.
You are very compliant and adjusting.
Women who are overly emotional, adjusting, and submissive are often taken for granted by their partners in relationships. 
You do not care about credits.
If you are one of those who care a lot for someone but do not expect it, it is time to become wiser. Your lack of expectation can make your partner take you for granted. 
Lack of self-confidence[4]
When you lack confidence, it gives others a chance to dominate you, including your partner. If this sounds like you, that may be your answer to "Who do I feel like he takes me for granted?"
How to Know If He Takes Me For Granted?
We often fail to see that our partners take us for granted unless someone points it out to us. Here are some signs that could mean your partner is taking you for granted:
Your partner does not treat you with respect.
There is a lack of acknowledgement or appreciation for something you did.
If he makes plans without you or your knowledge.
Your opinions do not matter to him.
He makes you feel insignificant.
There are frequent occurrences where he insults you or makes you feel worthless.
He stopped dressing up well in front of you like in earlier days.
He ignores you when you talk (a red flag in your relationship).
He prioritizes his friends over you.
There is hesitancy or lack of intimacy.
He is reluctant to introduce you to his family. 
Does This Mean He Doesn't Love Me?
Have you ever wondered, "partner takes me for granted – does this mean he doesn't love me?" It sets off a vicious cycle of trying to please their partner, becoming clingy, being available all the time, overtly expressing their love, etc. It makes the man even more complacent about the relationship and tends to take his girlfriend or wife for granted even more. 
If your partner takes you for granted, it does not necessarily mean he doesn't love you. He may take you for granted for many reasons, and understanding the reason is the best way to resolve this issue. If your partner does feel there is a lack of love from his side or your repeated attempts at changing his behaviour go in vain, it may be advisable to go for couple or marriage therapy.
Should I Leave Him or Walk Away If He Takes Me For Granted? 
If your boyfriend or husband takes you for granted, leaving him should not be on top of your list of things to do. We understand it can be insulting and frustrating, but ending a relationship should never be the first move, because there are many ways to resolve this issue, beginning with effective communication. 
However, discussing with your partner is often enough for him to see how he has been behaving, thereby changing it. Because everyone deserves a chance, and you should give your partner one too to allow him to be better. At the same time, you must try to remove factors that may contribute to making him feel your importance and value. 
Despite all these efforts, if your partner refuses to change his behaviour or continues to take you for granted, it may be a good idea to walk away and end the relationship for your good and his!
"I Want to Teach Him a Lesson": How to Make Him Worry About Losing You
While it is nice to be polite and adjust with your partner, there must be a fine line between loving them and allowing them to take you for granted. Moreover, being too clingy or excessively worrying about your partner leaving you is also unhealthy for a relationship. Therefore if your partner takes you for granted, sometimes making them worry about losing you is a good idea to reignite the spark in your relationship. Now, here are some handy tips you can try! 
Hence, Don't always be available for him; play hard to get
Firstly, talk about plans for the future when he isn't there
Secondly, please do not jump to answer his call or be prompt to reply to his messages; let him wait and expect
Spend time with yourself
Add a few new sex moves
Be social and flirtatious in front of him. No man can stand jealousy!
Don't be clingy
Avoid pleasing him all the time
Be independent in every way
Spend time with your family and friends
Now, these will make your partner appreciate you more and worry about losing you.
How to Stop Him From Taking Me For Granted?
Hence, being in a relationship requires some maturity from both partners. Therefore, here are some ways to stop him from taking you for granted:
Communicate: Express your concerns to him and be vocal about how you feel. Because you may need to cite some examples if your partner cannot understand where you are coming from and what is your feelings.
Focus on yourself: Now, Shift your attention to yourself rather than pampering him with all the love and attention. When he notices that you are enjoying yourself, even without him, this might get him thinking and hooked on you again. Don't be stressed. Try to live stress-free, so if you feel you may, go to an online therapist for stress. Practise meditation also.
Give him a taste of his medicine: After that, sometimes, a "tit for tat" works better than accessible communication. Therefore, if you have problems, go to an online therapist because the counsellor will guide you to overcome this problem.
Give Space to your relationship: Always give yourself and your partner space in the connection. Because it might help him realize your importance in his life. Even if you feel more problems, you may undergo an online couples compatibility test. 
If you are experiencing trouble in your marriage, consult expert counsellors at United We Care! 
References:
Wikipedia contributors, "Outline of relationships," Wikipedia, The Free Encyclopedia, 19-Jan-2022. [Online]. Available: 

Wikipedia contributors, "Relationship," Wikipedia, The Free Encyclopedia, 19-Apr-2022. [Online]. Available: 

Wikipedia contributors, "Self-esteem," Wikipedia, The Free Encyclopedia, 13-Jul-2022. [Online]. Available:

E. Zerubavel, Taken for granted: The remarkable power of the unremarkable. Princeton: Princeton University Press, 2018.

P. Quattrone and T. Hopper, "What does organizational change mean? Speculations on a taken-for-granted category

," Manag. A. Res., vol. 12, no. 4, pp. 403–435, 2001.

R. Howitt, "Unsettling the taken (for granted)," Prog. Hum. Geogr., vol. 44, no. 2, pp. 193–215, 2020.