The entire sports world was shocked after learning of the sudden demise of cricket icon Shane Warne [1] at 52. A world-class cricketer dying while vacationing is a piece of hard-to-digest news. Shane Warne's death must sound alarm bells for men and women in their forties or fifties. The unexpected tragedy underlines the need to reconsider the priorities of life.
What is the reason behind the death of Shane Warne?
According to news reports, Warne died due to a heart attack [2]. Later, his post-mortem reports also confirmed it as the cause of death. 
Shane Warne was vacationing in Thailand with a couple of friends. He was found unconscious by his friends. Paramedics performed Cardiopulmonary Resuscitation (C.P.R.) without success. It appears that Shane Warne succumbed to a massive heart attack.
One may attribute several reasons to the heart attack in Shane Warne's case. These include smoking habits, hectic schedules, late nights, and excessive alcohol consumption. Shane was a man of extremes who loved to go on a prolonged liquid diet[3] for weight loss.
According to Thai police, Shane Warne's medical records confirm the presence of cardiac issues and asthma. He was receiving treatment for chest pain in Australia before his departure to Thailand for a vacation. The police noticed that Warne vomited before falling unconscious. Vomiting is a classic symptom of a heart attack. Warne's death was natural as there was no sign of any foul play.
What was the root cause of Shane Warne's death?
Stress and extreme lifestyle changes are the most common causes of death of Shane Warne. He led a lifestyle that oscillated between two extremes and would go on a harsh liquid diet for weeks before deciding to change tracks and start an unhealthy diet. Shortly before his tragic and sudden demise, he had finished a fortnight of a liquid-only diet. Unconventional diet, extreme exercise, and stress are vital factors that may prove fatal for sportspersons and fitness enthusiasts.
Shane Warne went one step ahead with a sudden switchover to a lifestyle of late nights, smoking, and boozing. For Shane, it was all-or-none. One must look after mental health while trying to maintain a healthy physique. There is a strong association between sudden death because of cardiac problems and neglect of mental health. The craze to look good tempts individuals to adopt extreme measures. People often overlook the effect of stress on their mental health as physical fitness takes a front seat.
Looking for services related to this subject? Get in touch with these experts today!!
Experts
What can we learn from Shane Warne's story?
A thoughtful fan places a beer can, a pack of cigars, and a meat burger by the statue as his last respects to Shane Warne's cricket legend. What does it indicate? Shane Warne was deep into lifestyle habits that we all know as cardiac risks. He was determined to quit all these vices to regain his shape. 'Operation Shred' (Shane's description) was about to begin before the cricket icon had to leave the pitch of life.
Opting for a healthy lifestyle is undeniably a step in the right direction. The main concern is prolonged exposure to cardiac risk factors and the resultant damage to the heart. Besides, one cannot do anything about genetics and age-related degenerative changes. Attempting to mitigate cardiac risk factors is crucial as we advance to middle age.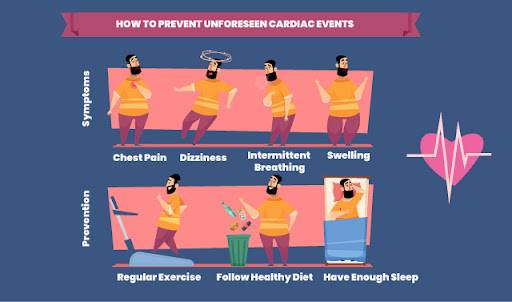 Understanding our risks is essential as we approach our fifties. Periodic monitoring of significant health parameters like blood pressure, cholesterol, blood sugar, and body weight can make us aware of the possible risk factors.
How to prevent such incidents?
Preventing unforeseen cardiac events requires regular consultations with a physician and proper precautions such as following a healthy diet and exercising regularly.

We need to consider the four cardinal aspects of our health and lifestyle.
High blood pressure

Lipid profile

Alcohol consumption and smoking
The World Health Organisation advises middle-aged folks to watch their body weight and waist to reduce the risks of pre-diabetes.

Quitting smoking can considerably reduce the risk of cardiac disorders. Cut down on alcohol consumption or stop drinking as alcohol increases the risk of stroke and cardiac emergencies.

Following a healthy diet and avoiding junk food should be your priority as you reach your fifties.

Fix a healthy daily routine with a minimum of 30 minutes of exercise.

Consider practicing meditation and yoga to take care of your mental health. Simple breathing exercises like Pranayama are effective in reducing stress and improving metabolism. 
Maintain a moderate lifestyle by avoiding crash diets or extreme exercise routines.
Learn more about: Hyperfixation vs. Hyperfocus

Do you think life is pointless?
Conclusion
Shane Warne was the finest bowler of our generation who lived his life to its fullest.
There are theories associating Shane's death with foul play or the use of vaccination. Most of us take our health for granted. We suddenly become aware of life's uncertainty when we come across news like the sudden and tragic death of Shane Warne. We all must understand that it can happen to anyone and at any stage of life.
By focusing on the quality of life, we can relieve stress since we cannot control the quantity of the life we lead. Stressful lifestyles and extreme gym routines make us neglect the most significant aspect of our health – the mind. Mental health is a crucial parameter of a healthy body. As we approach middle age, we must take care of essential risk factors like cholesterol, blood pressure, and body weight.
We should try to focus inwards to find inner peace and happiness. Thanks to a broad spectrum of mental health solutions, it is possible to improve our mental health and reduce the number of health risks like hypertension or diabetes.
Follow our Social Media for more updates:
Instagram
References
Unlock Exclusive Benefits with
Subscription