Introduction 
Smoking has become an emerging lifestyle for some people. Smoking acts as a significant risk factor for numerous chronic diseases in humans. In India, more than one million deaths occur every year because of the complications arising due to smoking. Quitting smoking can become challenging, and the person may get addicted. Quitting smoking is a wise decision, but it requires numerous attempts to reach one's goal. A person may experience a relapse of smoking due to stress and nicotine or tobacco withdrawal. Relapse episodes can occur at the beginning when a person decides to quit cigarettes. 
What is the Smoking Relapse?
When people try to quit smoking, they may find it challenging to stay away from cigarettes for long. Relapses or slip-up episodes usually occur within the first week of trying to quit smoking. A smoking relapse does not mean that a person cannot quit smoking. With determination and self-control, one can continue with one's efforts to stop it. Cigarettes contain tobacco and a chemical called nicotine, which is highly addictive. It can negatively affect brain development, blood pressure, and the heart. Each time you resist the urge of tobacco, you are one step closer to achieving your goal of quitting it. Relapse of smoking may also lower your confidence and make you feel like wanting to give up the process of quitting smoking entirely. Therefore, it is necessary to be consistent and always say "no" when someone offers a smoke. The health benefits of quitting smoking are immense and should be the best motivation for those who plan to quit smoking.
What are the symptoms of smoking relapse?
Nicotine or tobacco withdrawal is a severe complication for many individuals who try to quit smoking. Many of them relapse and try numerous times before they eventually quit smoking. Nicotine affects the heart, blood vessels, hormones, metabolism, and brain. Withdrawal symptoms refer to the intense craving to smoke and irritation when you cannot have it. Some evident smoking relapse symptoms are:
Physical symptoms

Intense hunger and increased appetite

Weight gain

Nicotine cravings

Headaches 

Dizziness

Cough

Fatigue

Insomnia

Constipation

Emotional and Mental symptoms

Anxiety 

Restlessness

Depression

Easily irritated or upset

Disturbed concentration or focus
Smoking relapse symptoms can differ in every individual based on addiction severity. The initial days are tough to deal with after quitting smoking. In such cases, try to divert your mind through good habits such as exercises, deep breathing, healthy eating, therapy sessions, etc. Expert doctors may recommend specific coping strategies if you are trying to quit. They may also recommend you to a therapist or rehabilitation sessions where you can speak freely about your smoking addiction.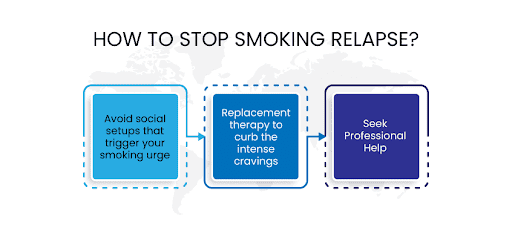 How to stop smoking relapse?
If you find it challenging to manage the relapse of smoking or smoking relapse symptoms, it is best to seek professional help and keep certain things in mind. Here are ten tips that will help you to quit smoking eventually:
Avoid social setups that trigger your smoking urge, especially parties, bars, etc. Learn to decline the smoke if someone offers. 

Try nicotine replacement therapy to curb the intense cravings of smoking.

Take a doctor's prescribed medications for the withdrawal symptoms, if any. 

Practice relaxation techniques such as breathing, yoga, massage, or art therapy. They will help you fight anxiety and restlessness and calm your mind and body.

Practice physical exercises such as running, jogging, gardening, or cleaning chores. It will distract your mind from the tobacco or smoke cravings.

Instead of chewing tobacco during cravings, you can munch on light and healthy snacks such as dry fruits, protein bars, and sugar-free chewing gums.

Delay the cravings as much as you can by going to smoke-free areas or conversing with someone who does not smoke. 

Seek therapy from professional doctors or therapists to voice your thoughts and prevent relapsing episodes. 

Read online blogs from people who have successfully quit smoking. It will inspire you to do the same. You can also follow their coping tactics to avoid a relapse of smoking.

Push yourself and aim to be better each day. Think of all the health benefits of quitting smoking, which will motivate you throughout the process.
What are the causes of smoking relapse?
Quitting smoking is not an easy task. However, it is beneficial for the healthy living of an individual. The leading causes for relapse of smoking are mainly withdrawal symptoms. The initial few days are most challenging when you try to quit cigarettes. Withdrawal from nicotine can make you anxious and restless while craving a cigarette. In such cases, it may lead to a relapse of smoking. Other factors may include work stress, personal problems, and insomnia that may lead to smoking episodes while trying to quit. Your cravings may intensify if you observe someone smoking in your vicinity. You must make a wise and firm decision to quit smoking and not get tempted. If you feel like you are relapsing, talk to someone or indulge in various activities to distract your mind. The first one to two weeks is crucial. Seek professional help without hesitation. 
Conclusion
Although it may seem like a lifestyle habit, smoking can become hazardous if addicted. Chemicals in the smoke affect multiple body organs in the long run. If you are trying to quit smoking, ensure you drink lots of water to flush out the toxins. It reduces the risk of significant health complications such as lung cancer, cardiovascular diseases, pulmonary diseases, and poor reproductive health. Quitting cigarettes can be challenging, but it improves and adds at least ten years of life expectancy. Many online helpline services are available if you are hesitant to converse with your therapist or doctor.