Introduction
Social media can convert a simple person into a celebrity overnight. There are thousands of examples of similar cases across the world. A person shows their talent and becomes viral on social media. These people often catch the attention of top producers, advertisers, and media celebrities. For example, recently, Ranu Mondal became famous for her excellent voice and further worked with one of Bollywood's leading singers, Himesh Reshammiya. We have also seen the example of the viral kid singing the song Bachpan ka Pyaar with Badshah. So, it is time to reveal a similar story of fame and popularity.
Who is
Kacha Badam Singer
Bhuban Badyakar
 Bhuban Badyakar is a peanut seller from West Bengal. A few months ago, he struggled to sustain a modest income from selling peanuts. After his song Kacha Badam went viral on social media, he became an overnight sensation, and his life somersaulted.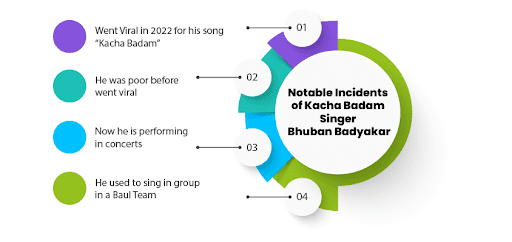 What is The Shocking Comment of
Kacha Badam Singer
Bhuban Badyakar
 "I am a celebrity now. I won't have to sell peanuts from now on." Bhuban had said.
The reason behind this shocking comment of
Kacha Badam Singer
Bhuban Badyakar
A person cannot differentiate between reality and imagination in a delusional state. However, the situations are either false or highly exaggerated. This delusional state is now orchestrated mainly by social media. In the case of Bhuban Badyakar from rural Bengal, was it the sudden stardom that changed him from a down-to-earth man or was it just a delusion?
Many people in his area had insulted and mocked him when he first came up with this song. But, when the music went viral, they desired to meet him, pay a visit to his home, and even urge him to take a selfie. "This is ironic. Time and luck change for everyone."- he cites. Indeed he is a "Celebrity"!
Kacha Badam Singer
Bhuban Badyakar
Feels Guilty, But Why?
A few days after this comment, Bhuban Badyakar met with an unfortunate accident while trying to drive his new car. After being discharged from the hospital, Badyakar attended a felicitation program where realisation dawned upon him. Facing criticism, he said he regretted saying it. He apologised to his fans. The people had made him a celebrity, but he would again sell peanuts without second thoughts if the situation arose. He felt lucky to receive such love from all. He says that he is a simple man and has always lived life like that. Things like stardom, media attention, and glamour will not be there forever. And he also assures us that, as a person, he has not changed. Realising his condition is crucial and can help him stay popular in front of the audience.
Social Media is a Delusion: The Dark Truth
The rise and fall of Ranu Mondal are still fresh in our memories. Life has not been the same for Ranu after attaining fame. Ranu's popularity just skyrocketed. However, her magic vanished at the same pace in recent times. She, too, faced criticism for her celebrity attitude, and people blamed her quick rise to fame for her change in attitude. Embroiled in one controversy after another, Ranu battled to be a reckoning, but she is again poverty-stricken. So what is next for Bhuban Badyakar in the delusional world of social media?
The most important thing to discuss here is how some people exploit people's virality and short-term fame like Bhuban. Remaking one viral song with a viral artist can earn crores of profit. The most powerful trick is to feature the person in the video and upload it starring a famous superstar, many industries of the world have adopted this formula. But the problem is the lack of grooming and knowledge to control the fame. "A poor person stays poor after winning the lottery." Hence, industries only offer a single project to these people and then stop. Thus, it forces the person to stay intermediate between simplicity and virality.
Notable Incidents of
Kacha Badam Singer
Bhuban Badyakar
To survive the cutthroat popularity race, the Kolkata pub that provided a platform for legendary singers like Usha Uthup has had to resort to a viral sensation like Bhuban Badyakar. But what if people forget him like Ranu Mondal?
That self-revelation has occurred within him for his good, and he wants to establish himself as a proper musician. Becoming a celebrity in the delusional world is not difficult. However, to remain an artist is not everyone's cup of tea, especially in a society of "class struggles.", Bhuban may not sell peanuts again in an uncertain future. Still, this overnight fame has given him a chance to see new life.
He has released his new song "Amar Notun Gaari". The song talks about how he was in an accident and how God saved him from more severe injuries. So the end of the story is yet to be written, and there might be a different ending. Only time will tell.
Conclusion
Social media is powerful. It can turn someone upside down with a single shot overnight. However, holding on to fame depends on controlling audiences and creating compelling content. People who struggle and grow their profile daily know the importance of producing high-quality content and consistency. 
The same is not valid for those who become viral overnight. Hence, social media can be delusional for them. No one knows the content quality and consistency of that person. So, connecting with audiences and producing high-quality content is essential for holding fame. The majority of overnight celebrities have failed in this task. For them, it was short-lived. Only time can give us a complete picture of Bhuban Badyakar.
Know of anyone who might be delusional? We are here to help!