Introduction
Ranu Mondal became an overnight internet sensation in 2019 because of her rendition of Lata Mangeshkar's song at the Ranaghat railway station in West Bengal. She sang Teri Meri Kahaani, an instant hit amongst the masses. Her fall is as instantaneous as her rise because her fame faded away shortly.
Who is Ranu Mondal?
Ranu Mondal is a classic example of a 'rags to riches and back' story. Somebody shot a video of her singing an old Bollywood song at the Ranaghat railway station. The video became viral quickly, making Ranu a virtual celebrity as people appreciated the close resemblance between her and Lata Mangeshkar's voices. 
The renowned singing legend Lata Mangeshkar also appreciated her, saying she was happy if someone drew inspiration from her work and name.
The exceptional internet exposure of her video on the Ranaghat railway platform helped to make her a celebrity. She received invitations to attend reality shows. Himesh Reshammiya offered her to sing for his upcoming project in one reality show. 
She sang a couple of songs for him, which became popular. Ranu Mondal is not very active recently as her popularity seems to be nose-diving.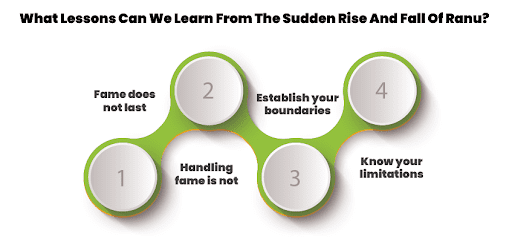 Looking for services related to this subject? Get in touch with these experts today!!
Experts
How did Ranu Mondal become famous?
Social media has an enormous potential to grant a person instant stardom, provided the individual has an exceptional talent. The overnight fame and the subsequent appearances on reality shows helped Ranu Mondal gain unprecedented publicity. The famous music director Himesh Reshammiya made her sing Teri Meri Kahani. It further added to her popularity as the song was a huge hit. There was hardly any Durga Puja celebration in West Bengal that did not play her music during the festival.
Countless examples of talented individuals becoming famous as their videos received extensive attention. Ranu Mondal earned her livelihood singing at the Ranaghat railway platform. A single video showing her singing Lataji's evergreen song catapulted her to overnight stardom. We can attribute Ranu Mondal's swift rise to fame to her melodious voice and the strength of social media platforms such as Twitter, YouTube, and Instagram.  
What is the social media paradox?
Social media has permanently changed the way people communicate with each other. Being in touch, sharing anything and everything, or appreciating someone is a new ballgame in the age of easy-access social media platforms. One can rise to great heights of fame or slide down the popularity ladder within a few hours. Social media can make or break a person's image within no time.
Social media platforms can give people unreasonable expectations that put them under stress or anxiety when trying to maintain their digital status. Social media platforms can negatively impact mental health. The pressure of maintaining an illusionary quality may cause the person to suffer depression as they may not ‌live up to their ideal self. The desire for virtual validation through likes, upvotes, and shares can seriously damage your self-esteem.
Visit United We Care to understand the influence of social media on mental health.
What lessons can we learn from the sudden rise and fall of Ranu?
Fame accompanies a profound responsibility to respect fans and people who help you stay on top. 

Handling fame can be overwhelming for people with no experience of media exposure and fan following. You must realise that all your fans judge your actions, appearance, and behaviour. They will not think twice before trolling you, even for a minor incident.

Establish your boundaries because raising people's expectations can put you in grave trouble if you cannot achieve them. Be realistic about your talent, even if your fans shower you with their admiration. There is a massive gap between getting noticed and achieving sustainable success.

Knowing your limitations is crucial for avoiding future disappointments that can cause severe mental health concerns. Studying the lives of successful people who have remained at the zenith of popularity for decades will help you prepare for the struggles. Imitation can make you famous, but developing an original style will only help you in the longer run. There is no shortcut.
Conclusion
A sudden media spotlight and overnight success can lead someone to become self-centred and rude. Ranu Mondal started misbehaving rudely with her fans. She was a victim of ruthless trolls on social media because of an indecent reaction to a fan who wanted to take a selfie. Her fans criticised her for her make-up. The image was fake, and someone posted it intending to malign Ronu Mondal's image.  
Ranu Mondal had no experience of being the focus of widespread attention. The social media users who liked her voice made her famous. There was also an element of sympathy because she struggled to make ends meet by singing at a railway station. We must not allow success to dominate us because it can be a passing phase. We should always be humble and behave politely with fans.
There is nothing wrong in aspiring to be another Lata Mangeshkar, but one must appreciate Lataji's years of struggle and modesty despite her iconic stature. A sudden rise to fame can be dangerous for someone who has had no media exposure in the past.
    Visit United We Care to find distinguished mental health experts to deal with social media delusion.
Unlock Exclusive Benefits with
Subscription