Introduction:
Parents need to realize the importance of taking kids to therapy in the early stages of life. The best time to take a child to a therapist is in adolescence, and it is vital to find the best kind of therapist for adolescent counselling. Every child is unique, and every child deserves nothing but the best. The transition from a child to an adolescent is a magical process of its own. However, it does not come easily for some kids. Some kids struggle, find the transition hard with the hormonal rush and physical changes in their bodies. If a kid is struggling with the changes, it is high time they visit a therapist for their adolescence. 
What is Adolescent Counselling?
Young people face many changes during their teenage years, including psychological, identity, physical, and relationship changes. Many stereotypes about adolescence portray it as a difficult time for adolescents. Teenagers and children develop social skills and emotional intelligence as they grow. Social skills and emotional intelligence are associated with a healthy and happy life. Children sometimes exhibit negative emotions or behave in ways that interfere with their well-being.
Adolescent counselling seeks to help young people make sense of their feelings, thoughts, and actions. Besides traditional talking therapy, other techniques have specifically aimed to address the expressive nature of young people, such as art therapy. Adolescents can thrive in a counselling environment by employing these proactive and creative strategies.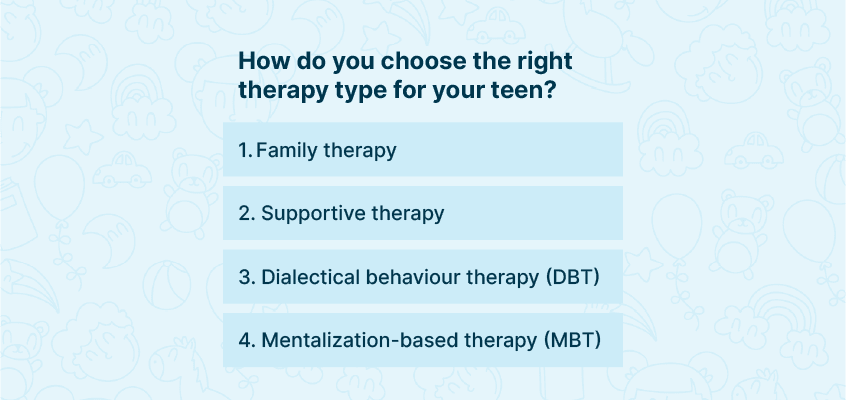 Who is the best therapist for your teenager?
Friends, family members, and the family doctor can refer parents to specialists. These conversations may seem uncomfortable at first, but learning how others handled similar situations can be valuable and encouraging. Finding a relevant advocacy group can help your child find resources, specialists, and communities if they exhibit all the characteristic symptoms of a particular disorder.
Choosing a therapist with experience is essential in dealing with teens. Unlike adults, teens don't have the same problems that adults do, and they deal with problems differently.
Referrals to therapists with specific experience and skills, when possible, should come from someone with familiarity and understanding of the individual.
Examine the therapist's approach and training. Getting to know the different approaches to treating teens will help you decide which is best suited to your teenager's issues and background.
Consider what qualities a therapist must possess to help your teen. The age of the therapist is a factor—do they work better with someone young and energetic, or benefit from one with more experience? Consider all the above factors while deciding the best therapist for your teenager. 
The importance of good relationships with a local therapist and teenager
The role of an adolescent therapist is to listen to and address the different concerns an adolescent might be experiencing. Additionally, they provide adolescents with feedback on how to handle all the changes they are undergoing.
Counselling for adolescents lasts as long as it takes to achieve therapy goals or until the patient's recovery. A child's family does not attempt to hasten the process because the child must receive helpful counselling and advice. As a parent, knowing these facts about adolescent counselling will help you understand the process better. Hence, it is crucial to maintain a good relationship with your local therapist for teenager growth. 
What are the qualities of a good teenage therapist?
Integrity

Expertise in the field

Having a good rapport

A communication strategy

Using a therapeutic approach

Having the correct credentials

Work experience with teenagers

Taking an interest in the child's needs

For children, the best therapists make therapy enjoyable.

A good therapist actively involves parents in the process of education.
How do you choose the right therapy type for your teen?
Teenagers can receive many types of counselling. A therapist may recommend a combination of treatments depending on the issue. 
The types of therapies are:
Family therapy

Group therapy

Supportive therapy

Interpersonal therapy (IPT)

Cognitive-behavioural therapy (CBT)

Dialectical behaviour therapy (DBT)

Mentalization-based therapy (MBT)
Family therapy:
Families with parents, grandparents, or siblings can participate in family therapy. The goal is to improve communication and support within the family.
Group therapy: 
A therapist leads a group of patients in therapy. A positive approach provides teenagers with social skills and a better understanding of how other teens deal with mental illness.
Supportive therapy: 
Teens benefit from supportive therapy by learning how to address and cope with problems in improving their self-esteem.
Interpersonal therapy (IPT): 
A common treatment for depression, interpersonal therapy focuses on a person's relationships, including how interpersonal events affect their emotions.
Cognitive-behavioural therapy (CBT): 
Therapists who specialize in CBT work with teens who have anxiety, depression, or trauma, helping them identify harmful thought patterns and replacing them with healthier ones.
Dialectical behaviour therapy (DBT): 
The DBT approach helps teens take responsibility for and find healthier ways of dealing with conflict and emotions. Teens with self-harming, suicidal, borderline personality disorder (BPD) are treated with this kind of therapy.
Mentalization-based therapy (MBT): 
Teens and children struggling with their identity and with who they are can benefit from MBT.
How to find the best Teenage Therapist For Adolescent Counseling in your area?
At United We Care, it is easy to access the best therapist based on your locality. Check out this link to find the best local teenage therapist for adolescent counselling. Teenagers or parents can get access to the best therapists for adolescent counselling. 
Conclusion
Adolescence is a challenging phase in a person's life. United We Care helps adolescents with their families and themselves through adolescent counselling sessions. Family plays a crucial role in an adolescent life and will determine how young adult handles the changes they undergo.