Introduction
The summer vacation has begun. How ten Z enjoys their holidays is relatively different from how their parents used to spend their vacations. Today, children and young adults are mostly glued to their phones or other electronic devices, browsing through social media or playing video games. 
Video games nowadays promote on-screen violence. Most research shows that video games increasingly lead children to become violent and aggressive in their lives. But how are these two interrelated?
Domestic Violence & Games – A New Level of Social & Media Violence
All of us are familiar with media violence. Horrifying stories unfold in different parts of the country, in newspapers or electronic media. The generation of young minds consumes murders, sexual harassment, caste-based violence, and stories reflecting various forms of violence daily. Studies show that kids constantly bombarded with such stories tend to have developmental and physical health problems, leading to more significant issues like desensitising to violence, aggressive behaviour, bullying, depression, and other psychological disruptions.
Video games are a new form of media violence consumed by our youth. Many video games are war/conquest-based, promoting killing and slaying the opponents to gain points. Most parents dismiss these as just video games, unaware of the profound impact the games have on young children who become violent and aggressive adults later on.
You can read more about how children become addicted to internet gaming and how to treat it on the blog page, United we care. 
What Triggers On-screen Violence & Digital Abuse? 
Digital violence is described as acts of violence against someone digitally or via the internet. This form of violence can manifest as hate messages, revealing classified information, or even posting embarrassing or private photos of the victim.
Studies

show that violent video games are linked to aggressive and pro-social behaviour in children. Too much online gaming leads to reduced feelings of helpfulness, cooperating and sharing. 

Most of the time, these children channel their aggression online. They find comfort in sending hate messages or posting nasty comments about people they dislike, something they would not do in person. It is the most basic form of digital abuse. 

Youngsters face digital abuse, such as bullying online, hate comments on posts, body shaming, or leaking personal information. Most of these forms of digital hate are a form of revenge or target to make others' feelings hurt. These acts of digital violence can stem from being overly exposed to violence, be it digital or social. 

Today, psychotherapists can help treat addiction to video games through cognitive therapy or rehabilitation. You can browse through some of United We Care's addiction programmes

here

. 
Are Digital Violence & Social Violence Relatable? 
Social violence is a violent act committed by a person that significantly impacts society. So, what is the connection between digital violence and social violence?
An act of digital violence that impacts many people is called social violence. Some data abusers or hackers of personal information use violence against women or people of a particular religion to impact society negatively, causing inequality and distress among people. 
People carrying out digital and social violence often do this to disrupt peace in society. These people are rather timid and usually keep their identities hidden. Just a wrong picture or a controversial post is enough to cause an uproar in digital media. It can take an ugly turn and take the form of social violence, disrupting the secular ideals.
How to Protect Yourself From Digital Abuse? 
Digital abuse is everywhere. Recent studies suggest that almost 59% of teens face digital abuse. It calls for an urgent need to educate the youth regarding ways to protect themselves from digital misuse.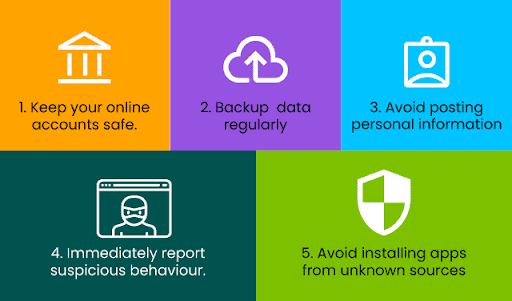 Here are a few ways to protect yourself from digital abuse.
1. Keep your online accounts safe.
Your computer stores a lot of your personal information. Hackers may use this information to abuse the victims digitally. Make sure you change the settings of your online accounts and keep all your account passwords protected at all times. Carry them out only on private networks and never on public Wi-Fi for financial transactions.
2. Backup data regularly
Backing up data comes extremely handy if you become a victim of ransomware from hackers. Backing up your precious data will keep it safe and prevent you from falling prey to hackers' demands. It is an excellent way to protect yourself from digital abuse. 
3. Avoid posting personal information.
Data abusers are always on the lookout for any snippet of your personal information they can find. Be it your pictures or your recent activities or location updates, the best way to keep yourself away from digital abuse is to keep your personal life personal. 
4. Immediately report suspicious behaviour.
If you find yourself receiving hate comments or abusive messages, it is best to report it to the cyber cell as soon as possible. Silent suffering will only make the abuser stronger. If you take no action against them, the digital abuse may become real-life violence. 
5. Avoid installing apps from unknown sources-
Some video games may ask you to download an application, primarily via a suspicious website. You should avoid these downloads entirely as these are often spyware used to hack into your devices. You can stay safe from this by changing the privacy settings on your phone to avoid installing apps from unknown sources. 
Conclusion
The present generation is social media savvy. However, we must know where to draw the line. Keeping your private information safe will help you keep away from digital abuse. Also, most psychotherapists believe that we must consume video games and other content in the media in limited amounts. If you notice anyone around you showing signs of aggression or addiction, it may be wise to bring it to the immediate attention of people who can help them. These steps will only help us make the world better for future generations.