Introduction 
Human trafficking is a severe problem, and the prime sites where it occurs remain hidden from public view on the darknet. Modern cybersecurity offers a cyber protection service that may deter human trafficking on the Dark Web. Experts face the unique problem of anonymity, and renowned search engines like Google and Yahoo cannot detect the Dark Web. We require special software or permission to access it. Genuine technological initiatives can break down the Dark Web's boundaries. We need to control illegal activities on the Dark Web with the help of law enforcement. 
What is the Dark Web? 
Popular search engines (Google or Yahoo) cannot detect the Dark Web, and one can access it only using special software or permission. Only specific browsers or specific network setups can access the Dark Web. A network of web servers is designed for the Dark Web to provide anonymity by encrypting conversations and routing online content. The Dark Web is a lawless haven for illegal activity. Users frequently portray the Dark Web as an ungoverned venue for illicit activities, but this is not always the case. The darknet is an anonymous web space that may or may not be misused. People use the Dark Web to keep their internet behaviour private and anonymous. 
What is the dark side of the Dark Web?
Human trafficking occurs on a vast scale across the globe. It involves forced labour or sexual coercion of people who lack the financial and legal help to protect themselves. 

The cybercriminals who run human trafficking rings typically utilise the internet's reach to discover potential clients for services. They use classified sites and Dark Web platforms, more anonymity. 

Traffickers often look for victims on the internet. Users use phoney job postings and other enticements to draw people out. 

The adage "technology is a good slave, but a hazardous master" holds in today's digital era. While food, clothing, medications, books, and other commodities are readily available on the surface web, illegal substances such as guns, fake credit and debit card details, and child pornography reside on the Dark Web. Because the Dark Web is inaccessible to search engines, visitors mostly pay with cryptocurrencies. This way, the money obtained through human trafficking can remain anonymous.
Will Web 3.0 be beneficial for human trafficking?
Web 3.0 is the most recent Internet technology that uses machine learning, artificial intelligence, and blockchain to accomplish real-world human communication. Web 3.0 offers another perk—the ability to keep your data and get paid for your online time. The A.I. use of Web 3.0 could help control human trafficking. 

On the Dark Web, the victims of this crime have to follow the commands of customers or purchasers on shared screens. 

Women, children, and people in poverty are particularly vulnerable to coerced internet sex. 

The photographs created through computer-mediated communication during the crime are a sort of rape pornography or child pornography that is shot and transmitted in real-time. 

The number of onion services operational on the Tor network remains anonymous. 

The developer allows partial monitoring of the network traffic and a summary of the scouted services. Among the seen services, child sex abuse material is popular and has heavy traffic. 
What are legitimate users of the Dark Web! 
Most men are unlikely to spend time on the "Dark Web." It's the part of the internet used by criminals, child pornographers, and sex traffickers. Users may stay anonymous by using the Tor browser. 
The Dark Web can be a place to offer help and could help fight drug abuse. There is no legitimate or positive advice, work, or suggestions on the Dark Web. So we can say that no legal work typically happens on the Dark Web.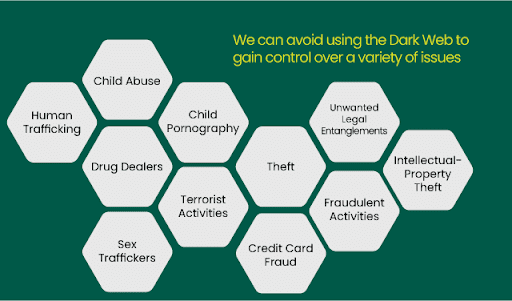 We can avoid using the Dark Web to gain control over a variety of issues, such as,
Human Trafficking

Child abuse 

drug dealers

Child pornography

Sex traffickers

Terrorist activities

Theft

Fraudulent activities

Credit card fraud

Intellectual-property theft

Unwanted legal entanglements
Why is the Dark Web a source of concern for businesses?
Data protection is the biggest challenge on the Dark Web. 

Businesses frequently overlook the impact of Dark Web forums in aiding data leaks.

If sensitive and secret data from a firm gets discovered on the Dark Web, it becomes difficult for the company to trace it. 

There is a need for the concerned company to have software that can inform the parent company. 

Phishing assaults, corporate email breaches, and intellectual property infringement are all reasons for being responsible. 

You can build up monitoring and response systems for the Dark Web.

One can eliminate the security loopholes through proper training and security practices. 
What exactly is human trafficking on the Dark Web?
Paedophilia or pedophilic disorder is a psychosexual illness that affects adults and adolescents. Human trafficking and sex trafficking are two of the most common crimes that have risen dramatically due to the online forums and chat services running under the deep web's anonymity. Human traffickers negotiate and form contracts with victims to recruit them for human and sex trafficking. Victims go to "cybersex dens," which are locations equipped with webcams and internet-connection that run the live streaming software. Traffickers force victims to perform sexual acts on themselves or comply with live broadcasts of rape or assault. 
Conclusion
Anyone on the Internet may have their privacy violated by Dark Web criminals. Using the Dark Web to obtain personal information is illegal. Understanding the potential role of the Dark Web in criminal activities is essential to establishing a good cyber-security strategy. Users must be aware of data breaches, such as keeping personal information safe and staying up-to-date with cyber threats like ransomware.