Introduction
Kurt Cobain has been an integral part of '90s rock music. He was an American singer who was the lead singer, songwriter and cult musician of the band Nirvana. His band Nirvana was fueled with angst and thematic unconventional mainstream rock music. Kurt Cobain, to date, is considered to be one of the most influential rock musicians in the history of rock music.
Who was Kurt Cobain?
Born in 1967 in Washington, America, Cobain had mixed ancestry from English, French, German, Ireland, and Scotland. Hailing from musical family background, he preferred guitar and songwriting strongly. He got a particular push from his maternal uncle, who was then part of Beachcombers' band. Soon, Kurt took up music professionally and became a professional singer, guitarist, and songwriter, ultimately leading to the formation of the band Nirvana in 1987. Two other members, Krist Novoselic and Aron Burckhard, joined the band. Early on, the band became a success and signed its first contract with a major label, the D.G.C. records. Nirvana achieved global success with songs like 'Smells like Teen Spirit', 'Come as you are', 'Lithium,' Something in the way' and so on.
How did Kurt Cobain die?
Kurt Cobain was a singer and musician par excellence, but he had been ruthless with himself from the start to the end of his career. He faced family and relationship pressures and tried to find solace in addiction.
Kurt's downfall started with specific episodes of self-harm, leading to some significant incidents and near-death encounters.
The success of Nevermind fetched the band numerous other Seattle bands and gateway to a comprehensive set of audiences. Kurt had to be the spokesperson of his crew and was relentlessly under the media scanner.
Kurt Cobain's career came to an end when he was found dead in his home in Seattle on 8 April 1994. Kurt had shot himself with a shotgun straight into his head. His electrician reported the incident, who had merely visited the security system malfunction.
Why does Kurt Cobain commit suicide?
Self-harm is directly related to certain mental disorders, and depression makes individuals more vulnerable. 
Kurt Cobain had been doing drugs and was a cocaine addict since 13, leading to multiple health issues.

Kurt had been suffering from an undiagnosed chronic stomach ache; he also suffered from bronchitis, which went untreated for years.

Most people with mental health issues begin to feel sad and lonely initially. Gradually, these feelings become strong enough to push them to make life-threatening decisions. A few reasons that can lead people to commit suicide include receiving a piece of terrible news about health issues, losing someone very dear, indefinite debts, and undefined intense physical or emotional pain, among others.
What did Kurt Cobain's suicide note say?
Cobain's death was not only tragic but a story of self-actualisation. Kurt's suicide note interpreted that he had a happy and good life. He was grateful for his achievements in life, but a few incidents during his childhood had made him essentially hateful towards people in general. But now, as compared to his youth, he had improved and stopped being judgemental about people. Instead, he appreciated things around him with much love and empathy.
He also thanked his fans wholeheartedly for being concerned about his health in the past years when he was temperamental and unreliable. The note's urge read that his life, the note sequence of his non-communicating and loneliness.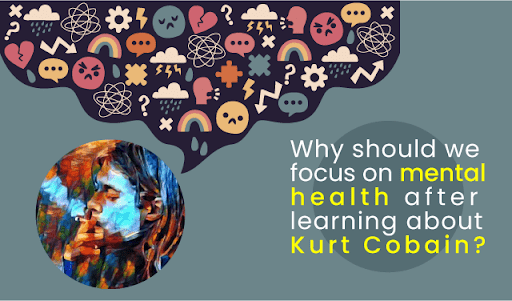 Why should we focus on mental health after learning about Kurt Cobain?
Understanding the patterns of mental disorientations can help stop mental disorders. Kurt's biography points to many instances of a relationship. However, none of his relationships lasted too long.
Most of his relationships happened over drug abuse, which eventually led to a more disastrous ending than a fruitful relationship.
Mental health is a part of our overall health and fitness. A good companion can also be the resort to dealing with negative thoughts in your life. As the saying goes, if you are mentally fit, so are you physically! It is all within the mind. Staying mentally healthy is one of the most significant pillars of strength one can build for oneself.
Conclusion:
Everyone will always remember Kurt Cobain as one of the most iconic rock musicians. Nirvana came as a game-changer in the history of rock and roll music. Hardcore rock was just the beginning of the era, and Nirvana was the precursor. If it hadn't been for his drug addiction and depression, his health would not have been so affected at physical and mental levels.
Hence, people should pay attention to their mental health, reflecting their overall well-being. Although there is much awareness about mental health, people continue to treat it as a taboo. We should take note and be proactive in reaching out for help before it is too late.
Unlock Exclusive Benefits with
Subscription