Introduction
On 29 June 2009, the world heard of the death of the greatest showman and performer, Michael Joseph Jackson. It will not be an understatement to say that Michael Jackson, fondly called M.J., was the most significant person in entertainment in the 20th century. Whether in pop, music or dance, he was a bestseller; he moonwalked into our lives and stayed in our hearts forever.
Who was Michael Jackson, Pop Superstar of All Times
If ever there is a discussion on who is the biggest pop star of all time, a few names come to mind. As an individual artist with the highest selling record sales, Elvis Presley is one of the number one.
However, if one had to name the King of Pop, it would be Michael Jackson, beyond doubt. He was right at the top during his time. The Guinness Book of World record has no hesitation in labelling him as the greatest ever. The audience lapped up his fashion, dresses, songs, and dance.
Michael Jackson is considered the most outstanding pop superstar because of his global appeal. He cast tremendous influence in countries where he had not even performed. People may not have known him, but his songs and specific dance steps gained a cult following globally.
How Did Michael Jackson Die?
On 25 June 2009, at the age of 50-years, Michael Jackson died at his residence on North Carolwood Drive. Michael Jackson died of cardiac arrest caused due to propofol and benzodiazepine intoxication.
A day before he died, Michael Jackson had gone for a rehearsal at Staples Centre. He complained of laryngitis and did not rehearse till 9 PM. After which, the trial went well.
Conrad Murray, the personal physician of Michael Jackson, discovered the pop star in his bedroom with no breath. The doctor performed C.P.R. and decided to move Michael Jackson quickly to Ronald Reagan U.C.L.A. Medical Centre. He was pronounced dead at the hospital.
Following his death, investigations to arrive at the root cause of the end of Michael Jackson continued. Investigations have found that Conrad had used a non-conventional method of C.P.R. on a soft bed instead of a hard surface. A case of involuntary manslaughter was slapped on Conrad, due to which he was sentenced to prison for four years. However, he was released after two years for good behaviour.
Is there any conspiracy theory about Michael Jackson's death?
After the death of Michael Jackson, investigators felt there was foul play involved. The Los Angeles Police Department investigated to ascertain the exact reason for his death and determine any conspiracy theories around the end of the pop legend.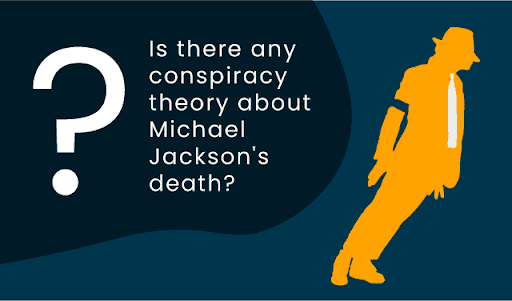 The Los Angeles County Coroner's office carried out the autopsy on the body of Michael Jackson and classified the death as a homicide. The reason for death was determined to be combined drug intoxication.
The daughter of Michael Jackson, Paris, was apparent in her allegations; she stated that her father was murdered. Even though investigations could not establish the motive behind the murder, most people believe Conrad's prime suspect would have gained if Michael was alive rather than dead. Conrad was on the payroll of M.J., making around $1,50,000 a month.
However, Conrad was found guilty of involuntary homicide and imprisoned for two years in the California prison.
Did M.J. suffer from depression?
Michael Jackson used to take antidepressants in significant quantities. The use of antidepressant drugs points to M.J.'s suffering from depression. Michael Jackson used anti-anxiety medications like alprazolam and sertraline. When Michael Jackson was fighting a child abuse case, he was believed to be taking 40 pills of alprazolam every night before he retired to bed.
One of the antidepressant drugs heavily used by Michael Jackson was propofol (Diprivan). It is a drug used as anaesthesia in hospitals under medical supervision. After the death of Michael Jackson, investigations found many bottles of Diprivan in his house. The pop superstar suffered from acute insomnia and used an anaesthetist to administer propofol to sleep. Medical experts believed that the overuse of this drug may have caused the cardiac arrest of Michael Jackson.
Why Was M.J. buried without his brain?
The pop superstar Michael Jackson, the greatest showman of the 20th century, was laid to rest at Los Angeles's Forest Lawn Cemetery. More than 11000 fans thronged the solemn occasion though only family members participated in his actual funeral.
Michael Jackson supposedly died of cardiac arrest on 25 June 2009. Doctors retained his brain to conduct neuropathology tests. As his death was linked to drug overdose and painkillers, doctors ascertained that the brain of Michael Jackson was a suitable way to carry out tests to unearth the exact cause of his death.
Doctors retained the brain for two weeks to carry out their examinations. However, the family members of the deceased pop legend did not agree to bury him without the organ. Hence, the burial took place after the Los Angeles Department of Coroners re-implanted the brain into the body of Michael Jackson.
Conclusion
Michael Jackson led a life befitting a king. He was the undisputed King of Pop, with fans worldwide. On a personal front, he had his share of controversies. He was embroiled in a case of child abuse that caused him anxiety and did nothing good for his image as a showman.
One would like to remember the performer as number one on the top hits list 13 times. No pop star has been able to break his record ever since. He was a born performer and was a prodigy even as a child. He took a portion of everybody's past with him in his untimely death.