Introduction
If someone says I am too fat to be attractive, then the person needs to stop being judgemental about themself. We hardly tell a near one that they are obese or openly express that a colleague is skinny. You need not be so harsh on yourself if you are careful about others.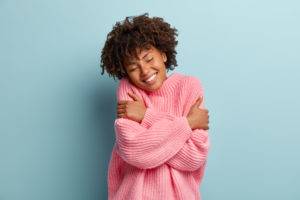 What is self-love?
Self-love is appreciating yourself without sacrificing your self-respect for pleasing others. You need to ensure your happiness by not allowing neglect of your needs that are vital for your physical and spiritual wellbeing. Self-love is crucial for mental health. You can achieve self-love by caring for your needs and being nice to yourself. The following acts improve one's ability to love oneself.
Not being overly judgemental about one's physical appearance 

Nurturing trust in self

Loving yourself for what you are

Looking after your priorities

Regular exercising to maintain good health

Setting practical and healthy objectives for yourself
Healthy habits, grooming, good nutrition, and enough rest are vital requirements to be comfortable in your skin. Be mindful of your feelings and personal wants. Self-love is noticeable if you take good care of yourself, not as a compulsion but as a loving gesture.  
Understanding the hormonal secretion and self-love
We have a built-in pharmacy store within the body that delivers soothing and pain-relieving hormones in response to a loving touch. Oxytocin is an important hormone that triggers the feeling of bonding and affection. The best example of the hormone's effect is during childbirth. There is a significant rise in oxytocin levels in the mother, resulting in a strong connection with the newborn.
In contrast, cortisol is another hormone sharing a link with negative emotions like anxiety and fear. The release of this hormone causes depression and a reduction in the number of particular neurotransmitters that boost the feeling of happiness. The release of oxytocin mitigates the effects of cortisol by countering feelings of fear and anxiety.
Establishing a powerful bonding with yourself through self-love can effectively reduce anxiety. Self-love creates a positive environment for the body to function appropriately. It requires a positive and healthy approach to self instead of self-criticism.
Looking for services related to this subject? Get in touch with these experts today!!
Experts
Yes, you can be attractive if you are fat.
Appreciate your body while standing in front of the mirror. It is essential to love your body for its flaws and be comfortable in your skin. Forgive yourself for those extra pounds. Firmly push away any negative thoughts that may cause stress, anxiety, and lowering of self-esteem. Choosing the perfect fashion and wearing comfortable clothes that highlight your features will make you look attractive.
Feel confident
There is a strong link between being comfortable and feeling confident. Clothes that make you feel uncomfortable can reduce your self-confidence. Avoid clothes that are too tight or extremely loose while choosing a perfect size. Prioritize your comfort over the temptation to wear trendy clothes that are not comfortable.  
Select clothing to match your body shape
Do not fall prey to the trends. Put your best foot forward by flaunting your favorite features, like shoulders or back. Select dark shades to create a compact appearance. Vertical stripes and intricate designs are suitable for individuals with plus sizes.
Visit United We Care to know how self-love can change your outlook.
Learn more about Hyperfixation vs. Hyperfocus
Do you think life is pointless? 
Celebrities who are fat
It is natural not to be comfortable in your skin if you are always in the company of people with different appearances. Finding someone famous despite belonging to the plus-size category can be a huge inspiration. Look for someone you can relate to, like motivational speakers, celebrities, people in high places, or a family member who has a positive approach to life [1].
Lizzo [2]:

The world-famous singer and rapper Lizzo is a personification of self-love. She enjoys being a plus-size woman and even celebrates her weight gain. 'Be you' is her advice to all people battling with self-criticism. Interestingly, Lizzo found self-love only after spending the harshest time of her life attempting to shed her pounds.  

Zareen Khan [3]:

Zareen strongly feels that there is a lot of unexplored space in the plus-size fashion category. She weighed over 100 kg till she was in college and took part in a fashion show by Lakme for plus-sized beauties. Confidence, fitness, and enthusiasm matter the most, and a plus-size must never be a roadblock to gaining these virtues, according to Zareen.

Beanie Feldstein [4]:

The famous Broadway actress went through difficult times during her preteen age as everyone, including her family physician, teamed up to force her to lose extra weight. The pressure resulted in a lot of stress until she realized the fallacy of society's perception of a beautiful body. Beanie understood nothing was strange about her body. Their actual issue is with the beauty standard. It leads to self-acceptance, paving the way for self-love.

Aidy Bryant [5]:

Being one of the youngest hires, Aidy Bryant joined Saturday Night Live, in which she immortalized the Character of Tinkerbell. Aidy Bryant is an Emmy nominee with a long string of T.V. shows and films to her credit. She oozes confidence and self-love, as she is among the most famous body-positive celebrities in Hollywood. She feels one should not waste excessive energy and mental peace trying to lose weight.
Conclusion
Being fat is only a physical condition. It should never affect your self-esteem. Your near ones may remark that you are not fat but beautiful (to make you feel happy). It can serve as an affirmation, but there is a rider. The statement has a subtle sign that one can either be fat or attractive. Never both.
Get rid of everything that promotes negativity. Never feel negative about your body if you hate people fat-shaming you. Self-love inspires you to invest in yourself as you adopt things that are helpful for your body. These include a nutritious diet, proper sleep, and exercise. Your size should not impede being comfortable in your skin. Self-love is an appropriate strategy to be comfortable in your skin.
You are wasting the most precious and non-renewable resource of time, worrying about your plus size. Use the time to convince yourself that you have a gorgeous body and be confident about your looks. Inculcate a healthy lifestyle by wearing suitable clothes with confidence.
Visit United We Care to contact eminent mental-health experts
Follow our Social Media for more updates:
Instagram
References 
Unlock Exclusive Benefits with
Subscription