Introduction
United We Care is a leading mental health organization with a vision to provide free basic mental health support to everyone worldwide. UWC platform is easily accessible and has already made a positive difference in the lives of individuals worldwide. We have three hundred thousand active users on our website from across countries like the USA, France, Germany, Japan, and India who already use the online platform and its range of services. This article will explore the benefits of the online platform at United We Care. 
What do you Need to Know About the Online Platform United We Care?
United We Care is a prominent mental health and holistic wellness platform that provides free basic mental health support to everyone worldwide in their regional languages. To achieve the mission of providing accessible and inclusive professional guidance and therapeutic support to individuals struggling with emotional challenges, United We Care operates through a fully functional website and a user-friendly mobile app. 
United We Care is a leading provider in the mental health field, and the company utilizes advanced technology like AI to offer diverse support and interventions directly to individuals, families, and employees. On the UWC website, you can find the following:
Stella, our generative AI, who can help you with your concerns.

A wealth of free resources on mental health. 

Informative videos and articles on issues people usually struggle with.

Tailored short-term and long-term courses designed by mental health  experts to address your specific emotional wellness needs.

 

Access to a range of professionals and experts who provide wellness and mental health intervention

Access to mainstream and alternative therapies such as Yoga and Meditation, Art therapy, Dance movement, Music therapy, etc. 
Unlike most other mental health organizations, United We Care aim to promote a culturally sensitive holistic approach while delivering high-quality services to you. After making a significant difference in the lives of thousands already, United We Care is rapidly expanding globally and aspires to reach many more individuals seeking support for their overall well-being.
Why is the Online Platform of United We Care Good for Networking?
United We Care has a unique market positioning where we provide holistic mental health services to our users globally. To do this, we have over 100 certified wellness and mental health experts empanelled with us. They provide interventions, training, and consultations to individuals and big corporations. This, alongside advanced technology, creates a conducive environment for networking, fostering collaboration, knowledge sharing, and community building. 
United We Care has partnerships with various multinational companies and a constant influx of unique users daily. Whether you are an individual seeking support, a professional looking to connect with peers, or an organisation aiming to expand its network, the online platform of United We Care offers numerous benefits and opportunities for networking.
How can the Online Platform United We Care Help you?
With United We Care, you can receive the best mental health and well-being services. Among the users who interacted with the platform, 80% experienced improvement in their mental well-being, 75% reported a stress reduction, and 70% reported improvement in sleeping patterns. Further, in organizations,  EAPs have generated 30 times more engagement when compared with traditional EAPs. 
In other words, our United We Care platform has benefits for every individual and can help you in many ways.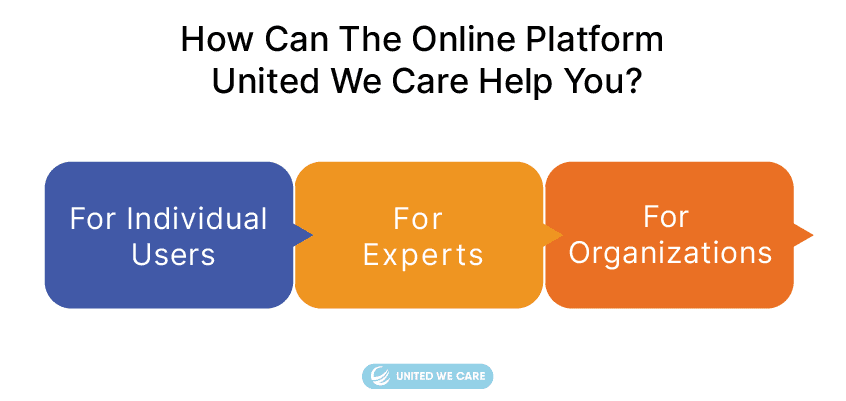 For Individual Users

, UWC has many free mental health resources. The blog covers topics that are relevant in terms of emotional well-being and mental health. For instance,  experts regularly generate relevant information on relationships, work-related struggles, parenting, psychological disorders, chronic conditions, self-care, gender and sexuality, sleep issues, stress, and wellness for the users. Further, AI Stella provides basic mental health support, including standardised psychological assessments and guidance on proceeding if you are struggling. 

For Experts,

UWC provides a platform to help you expand your practice and provide your services to individuals in need worldwide. Additionally, UWC provides an expert hub for sharing and learning from one another's experiences. 

For Organizations,

UWC provides employee-assisted wellness and mental health packages and programs to cater to the specific needs of the organisations. Experienced experts provide training and workshops in several areas, including promoting a positive and inclusive work culture and various topics on employee mental well-being.
The World Health Organization has termed mental health as a growing crisis. Among every eight individuals, one suffers from mental health concerns, with the global prevalence of anxiety and depression being as high as 31% and 28.9%, respectively. Many individuals cannot get adequate support and treatment owing to poor infrastructure in the country, monetary concerns, and lack of accessibility to services [2]. 
United We Care thus offers many ways to help individuals, experts, and organisations worldwide battle the ongoing mental health crisis. With a blend of innovative technology and experienced wellness and mental health experts, United We Care brings to you holistic and simple practical solutions to enhance your well-being and prevent and treat mental health problems.
Conclusion
United We Care is a technology-driven mental health organisation, and we are on a mission to provide accessible mental health support to individuals worldwide. If you are an individual looking for referrals or intervention, a company in need of EAPs for your employees, or even a therapist who wishes to have global outreach, UWC becomes your one-stop solution. 
United We Care is committed to providing you with the best services for the overall well-being of you and your loved ones. Here is the link to download the app.
References
United We Care India | A SuperApp for Mental Wellness,

https://www.unitedwecare.com/

  (accessed Jun. 12, 2023). 

"World Mental Health Report: Transforming mental health for all," World Health Organization,

https://www.who.int/publications/i/item/9789240049338

  (accessed Jun. 12, 2023). 
Unlock Exclusive Benefits with
Subscription