Introduction
Many parents struggle with the Tantrums and strict attitude of stubborn kids. We are born with temperament. If your child is stubborn, you must understand that you are not alone in this. 
Many parents have stubborn children, and it's OK if they are too young. But the way you handle your kid makes all the difference. 
So, if you are also one of those parents struggling with your child's attitudes, this article will help you understand how to deal with a stubborn child. 
What is the Definition of Stubborn Kids
The definition of stubborn kids is that children do not like their freedoms and activities to be controlled by others, meaning they want freedom in everything they perform. Stubborn children refuse to listen and obey the lawful commands of their parents and place themselves to listen to their perspectives.
Stubbornness in children is natural, but this does not worsen parents' difficulties. Therefore, familiarising your child with stubborn attitudes and behaviour is essential. Also, every parent has to appreciate their child's hard work and talents to make them listen to them.
Looking for services related to this subject? Get in touch with these experts today!!
Experts
Why are some kids stubborn?
Not every child who practices free will is stubborn. Besides, before taking any harsh or strict actions against your child, you must know every reason behind why they are stubborn. Else this will make the matter worse. Strong children will ask too many questions as they are very creative, and their imaginative power is sky-high, and it may often feel disturbing and rebellious at the same time. They have good opinions about others; They are "doers." 
What Problems do stubborn kids create
Stubborn kids often create too many problems for their parents. They want to be acknowledged and heard. They are committed to doing what they like doing. Almost all children throw tantrums, so it's normal for your child to show a stubborn attitude. 
Another problem with stubborn children is that they have strong leadership qualities.
Below are some fundamental problems that many stubborn kids create: 
They ask too many creative questions, which one could mistake for rebellious acts.

They want your attention, to be heard, and expect to be acknowledged.

They are independent and fussy; thus, they create many problems.

They find it difficult to be drawn into a routine as they are free-willed.
Dealing with your stubborn and determined child often requires much effort and patience. So below, we give you some excellent tips and tricks to handle the determined kids.
Seven ways to deal with stubborn Kids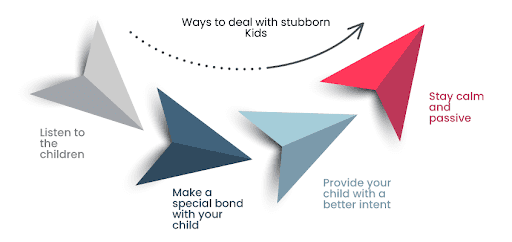 You may have a stubborn kid who might always disobey your rules and regulations, or you may have some kid who is independent and constantly argues on some topics. Here are seven ways to deal with stubborn kids.
1. Listen to the children:
Communication is not a one-way process; it's a two-way process. So, try to listen to your child what they have to says. Determined children are strong-willed, meaning they have strong opinions about themselves, so they argue with those who don't follow their thoughts. 
They become defiant and arrogant if they find nobody listening to them. When your child acts very stubborn, focus on listening to them and valuing their opinion rather than arguing with them. If you want your child to stop their stubborn attitude, try to approach calmly and head-on.
2. Make a special bond with your child:
Try to connect with the feelings that your child is trying to possess. When you force your child to do something against their wish, they will do the opposite of what you ask them to do. This type of behaviour and attitude is a common trait of stubborn children. 
So, the practical approach to these problems will be to stay calm and understand your child's feelings. Connect and show them some love.
3. Provide your child with a better intent:
Stubborn children don't always like to get ordered. They don't prefer commands or orders about being told what to do. So, give your child different options and no particular directives. Remember that parents must provide ample opportunities to their children, but giving too many choices is also not good.
4. Stay calm and passive:
Yelling at your child or any defiant will worsen the matter, which you won't like. When you start to scream and yell at your child, the conversation becomes worse. Your child might be willing to fight. So, as long as possible, try to calm and be a silent informant of your child. Do not shout or yell at them. Try to get away from the situation calmly. Practice calming techniques – like meditation, exercise, reading books, etc. The most effective way is to play calm music at home so your child will also love this and be relaxed.
5. Respect your child:
Your child may not accept the authority you try to invoke on him. Instead, try to respect them in every situation. 
Here are some best ways to show respect to your child:
Seek options, don't give directions and order.

Give all the children equal respect, time, and love if you have more than one child.

Be empathetic with them.
6. Work and play with them:
Try to be friends with your children. Stubborn or determined children are very serious about how you give value to them. So, appropriately treat your child and show love, and you'll win their hearts. 
When stubborn children become irritated, they do what they can do to protect themselves: they rebel, fight, talk back, and show disrespect. So, try to work with them and allow them to settle.
7. Deal with your child:
Sometimes, when your child shows stubbornness, it's necessary to negotiate with them. It is a common trait of every child to act out weirdly when they aren't getting anything they want. 
A practical approach to this type of problem would be to start by asking a few questions like, "What is bothering you?", "Is everything alright?", "Do you want anything?". It shows how much you care for them and will make them love you.
Essential tips for parents of stubborn kids:
If you're a parent and find it challenging to deal with your stubborn child, don't worry. We got you covered. 
Below are some excellent tips for parents of stubborn kids:
Don't argue with your child.

Establish a connection with your child and shower them with some love.

Offer them good choices to make.

Step yourself into your child's shoe

Maintain peace and a happy environment in your room.

Practice and brush up on your negotiation skills.

Encourage positive behaviour in your child. 

Develop a manly and productive routine for your child.
Conclusion:
Stubbornness is something you can eradicate with love, empathy, and kindness. Every parent must realise that every child is stubborn, but it depends on how we deal with them. 
Stay calm, deal with your child like yourself, understand their feelings, and figure out what they truly want. It will make them feel happier, and they will love you forever for this.
Unlock Exclusive Benefits with
Subscription