Introduction
Sri Lanka is a democratic island country with 22 million people. The island country has been highly dependent on its tourism industry and foreign exchange reserve for its economy since its independence and the formation of a central government. The Gross Domestic Product (G.D.P.) of Sri Lanka stands at 3.5% in 2021. The COVID-19 pandemic and ongoing political unrest have dwindled its economy leading to a severe financial crisis affecting the general public. Mental health issues have been rising, with anxiety, depression, and suicide topping the list of mental disabilities.
What are Sri Lanka's economy and mental health?
The various types of economy in Sri Lanka are as follows:
Free market Economy:

This is a free economy with liberal trade zones. Individuals, firms, and manufacturers are responsible for their finances and production. Research shows that it leads people to a healthy economic growth rate.

Command Economy:

The state and central government form trade policies and take production and financial decisions. It may materialise in some sectors of the country but may take a toll on the general public.

Mixed Economy:

A mixed economy combines free-market and command economies. It is the most common type of economy seen globally and in democratic countries.
Most economists describe the island country of Sri Lanka as having a mixed economy with both the state and private sectors engaging in the production process and taking financial decisions individually and in mutual understanding. It has developed free-market zones and has one of the best liberal trade regimes in the world. The major sectors under its mixed economy are banking, tourism, and agriculture. Sri Lanka has a well-developed banking system for the state and a general public banking system. Being an island, the primary source of income is its tourism industry. Three significant crops – tea, rubber, and coconuts – have contributed to its G.D.P. since the 20th century. 
There is a relation between the economy and mental health. The ups and downs of Sri Lanka's economy affect people's mental health. People are happy if their economic condition is good, but if the economy collapses, they become insecure and face lots of problems with mental health issues.
Looking for services related to this subject? Get in touch with these experts today!!
Experts
Why did Sri Lanka's economy collapse?
Sri Lanka's economy has been greatly dependent on its tourism industry. 
The COVID-19 pandemic imposed a complete lockdown and travel ban leading to a massive slump in the G.D.P. of Sri Lanka. It led to a rise in inflation and trade deficits. The agriculture, services, and banking sectors could not bridge the trade deficits leading to an economic crisis.

Sri Lanka fell into the well-known twin deficit trap. A rise in expenditure versus the country's reserves is one of the twin deficits, whereas a decline in manufacturing of essential commodities formed the other twin. The general public bore the brunt of this economic crisis with long food, power, coal, fuel, and water. queues

Natural calamities also have played a significant role in its agricultural sector. Droughts, famines, loss of groundwater, and a ban on crop chemical fertilisers took a heavy toll on crops' production, leading to food insecurity and lack of resources.
The Sri Lanka currency fell against the U.S. dollar causing huge debts. Importing essential items like food, fuel, coal, etc., could not be funded due to these debts, raising the inflation rate.
Can Sri Lanka bounce back her G.D.P.?
Financial and economic experts have suggested that the government of Sri Lanka should encourage the agricultural and industrial sectors to overcome their financial debts. If the government can reduce the heavy dependence on importing essential commodities, it will help people become self-sufficient. It will also help reduce food insecurity and inflation.
This kind of correction of the twin deficit will, in the long run, help with more significant export of essential commodities, increasing the scope of tourism and trade, and in-house manufacturing of industrial items.
What is the relation between Sri Lanka's Economy and Mental Health?
The general people mainly depend on food, fuel, and shelter for their well-being. When one of them is affected, it leads to financial and emotional turmoil. Sri Lanka's current state of insecurity contributes to the anxiety and loss of confidence in dealing with such situations. A study on this aspect found that the primary forms of mental health issues in Sri Lanka were anxiety, stress disorder, depression, suicidal tendencies, and phobias. 
Psychiatrists believe that increasing financial crises may cause people not to seek medical help for their mental health issues, making things worse for the healthcare system.
What to do to overcome the problems that arise from Sri Lanka's Economy and Mental Health?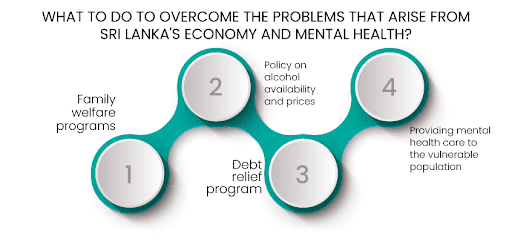 The World Health Organization has devised methods to combat mental health issues in times of economic crisis. These include: 
Family welfare programs

: Supporting children and women with food and shelter will reduce the burden on the earning member of the family.

Policy on alcohol availability and prices

: A policy to increase taxes and the cost of alcohol will reduce consumption of alcohol and prevent alcohol-based mental health issues.

Debt relief program

: Debt waivers and legislation provide support to overcome the financial crisis.

Providing mental health care to the vulnerable population

: Elderly individuals and earning family members need psychological support to help improve and maintain their ability to support their families.
Conclusion
Sri Lanka is a democratic island country with a mixed type of economy. The major sectors include agriculture, banking, tourism, and services. With the onset of the COVID-19 pandemic, Sri Lanka fell into the twin deficit trap due to a massive slump in its tourism industry. Agriculture and banking took a big hit due to rising debts and inflation. Studies proved that the general public suffered from food and fuel insecurity leading to mental health issues. The well-being of a country's population is directly related to its economic growth. If you want to talk about the anxiety caused due to your financial woes, feel free to reach out to the house of trained mental health professionals at United We Care.
Unlock Exclusive Benefits with
Subscription