Introduction
Lack of sleep may adversely affect your health, lifestyle and relationships. According to the Institute of Medicine (IOM) Committee on Sleep Medicine and Research, more than 100 million Americans experience sleep deprivation, of which an estimated 70 million people have a sleep disorder. Do you also suffer from a sleep disorder like insomnia? All you need is a good sleep therapist.
Who are sleep therapists?
An asleep specialist, also known as a somnologist, is a healthcare professional who addresses sleep-related issues and takes care of sleep health.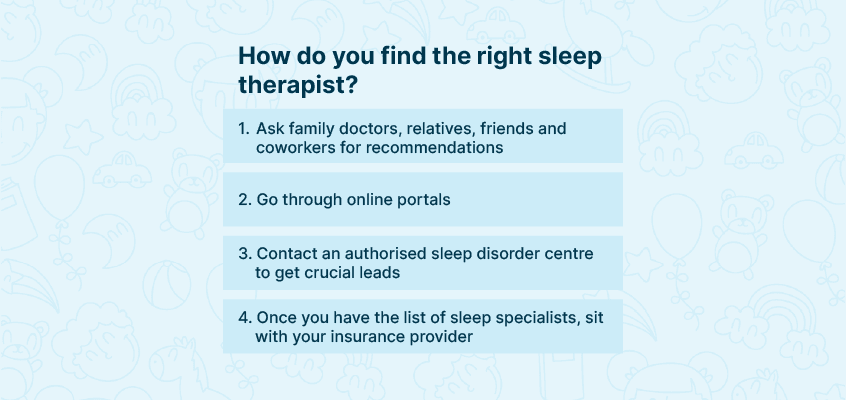 Sleep disorders addressed by sleep therapists.
Somnologists, sleep physicians or sleep psychologists deal with a wide range of sleep disorders. These include the following:
Insomnia

Sleep apnea

Narcolepsy

RLS (restless legs syndrome)

Circadian rhythm disorders

Periodic leg movement disorder

Excessive sleepiness

.Non-24-hour sleep-wake disorder

Other sleep-related issues
Most sleep therapists specialise in internal medicine, neurology, paediatrics, psychiatry and otorhinolaryngology (ENT). They receive their certification from the American Board of Sleep Medicine, a concern of the American Medical Specialties. 
Sleep psychologists specialise in dealing with wakefulness and other sleep-related behavioural problems. Many doctors devise cognitive-behavioural approaches to deal with several sleep disorders. For example, dental experts also help diagnose and treat sleep apnea with the help of various dental appliances. Not getting enough sleep may hinder your day-to-day functioning, and sleep therapists can help you tackle these issues.
Looking for services related to this subject? Get in touch with these experts today!!
Experts
Neelam Parwani
India
Life Coach
Experience: 5 years
Chakra Healings
Depression
Emotional Well Being
Grief/Loss and Bereavement
Phobias(Social and Specific)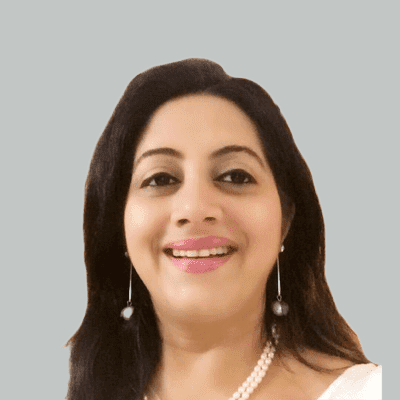 Sapna Zarwal
India
Psychologist
Experience: 19 years
Adolescence issues
Anger Management
Anxiety
Body Shaming
Bullying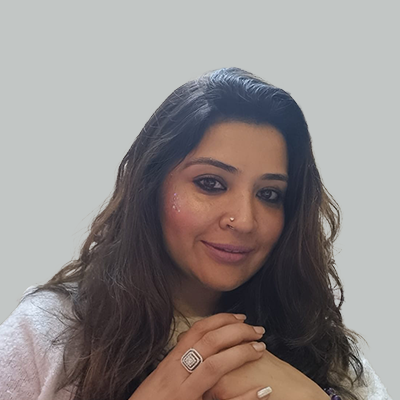 Deepti Gandhi
India
Life Coach
Experience: 6 years
Anger management
Career
Chakra Healings
Depression
Emotional Well Being
Why are sleep disorders harmful?
Although sleep is considered a luxury, it is a basic necessity. If you have ever spent your nights tossing on the bed with your eyes open, you probably know how you will feel when morning comes. 
Feeling cranky and groggy are just the short-term effects of sleeplessness. However, sleep deprivation may cause many long-term effects.
When you are asleep, your brain forms neural connections and helps you remember things. However, if you do not get sound sleep, it may affect your long and short-term memories.

Lack of sleep can cause depression, stress, and anxiety.

Your immune system starts getting weak. So, people who sleep too little are often sick even with slight exposure to pathogens.

You are at risk of developing high blood pressure and other ailments like diabetes, obesity, low libido, hypertension, etc.
What are the symptoms of a sleep disorder? 
The symptoms of sleep disorder depend on the type and severity of the disorder. However, the general symptoms may include:
Fatigue during the day

Wakefulness while sleeping

Falling asleep at unsuitable times

Lack of concentration or difficulty focusing

Taking naps during daytime

Anxiety and depression

Irritability

Impaired functionality and performance

Abnormal breathing patterns

Weight gain

Unexpected mood swings

Slowed response

Disruption in your sleep and wake cycle

Unusual impulses to move when sleeping

Feeling drowsy while driving

Struggling to stay awake

Difficulty in memorising things
If you experience any of these symptoms, don't ignore them. Consult a sleep specialist right away. 
How do you find the right sleep therapist?
Finding a sleep therapist can be challenging if you do not know where to start. Here are some tips to keep in mind:
Ask family doctors, relatives, friends and coworkers for recommendations.

Go through online portals to gather information about the sleep therapists practising in your region.

Contact an authorised sleep disorder centre to get crucial leads. Take a look at the list below:
    3A. American Academy of Sleep Medicine (AASM): You can find researchers and doctors who specialise in sleep medicine and get their details on the website.
    3B. American Academy of Dental Sleep Medicine (AADSM): Dentists who diagnose and treat issues related to sleep are usually members of the AADSM society. Here, you can find the names and contact details of sleep therapists practising in your area.
    3C. Society of Behavioral Sleep Medicine (SBSM): Their website features a directory of sleep medicine providers in your area.
Once you have the list of sleep specialists, sit with your insurance provider. It will help you understand the list of covered sleep doctors. 
Sleep therapists can help in several ways.
A professional sleep therapist can help you in many ways. 
They can extend support to deal with various sleep and wake conditions. 

If you have been suffering from long-term sleep deprivation issues, a sleep specialist can help you with various coping mechanisms while improving your sleep hygiene.

A good sleep doctor will also address aspects of mental health that are causing sleep disorders.

Some sleep-related conditions are caused due to an underlying medical issue, while others may be psychological. Simply put, many reasons can lead to sleep disturbances.

Sleep therapists can help

you diagnose the root causes of sleeplessness and prescribe an appropriate treatment.

Your sleep specialist can also recommend cognitive behavioural therapy for insomnia or CBT-I to treat chronic sleep-related problems.
Conclusion
Sleep is a crucial aspect of your life involving mental, physical and social health. If you have not been sleeping properly for a considerable time, make sure to consult a sleep specialist. Only a trained sleep therapist can help you identify the underlying causes of sleeplessness and provide a suitable treatment plan. With United We Care, a reputed mental health portal, you can find many certified sleep therapists and mental health counsellors to help you improve your sleep and lead a healthy and happy life.
Unlock Exclusive Benefits with
Subscription