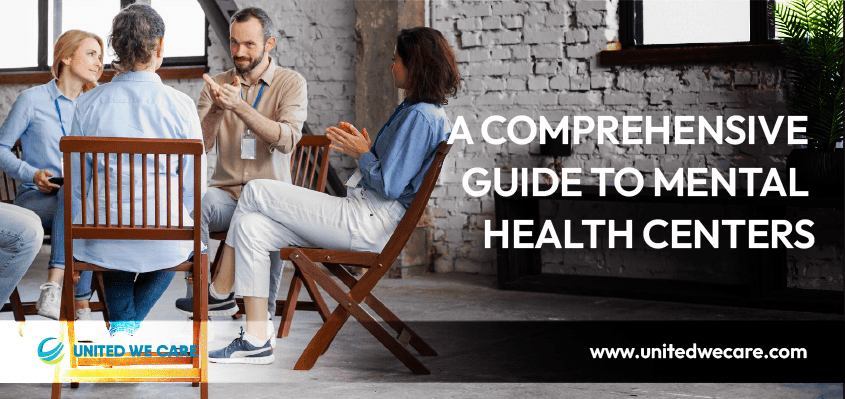 Introduction
Mental health centers are essential to providing comprehensive care and support for individuals facing various mental health concerns. These centers offer different services, including assessments, therapy, counseling, medication management, and community resources, creating a nurturing and compassionate environment to promote healing, recovery, and overall well-being.
What is a Mental Health Center?
A mental health center is a specialized facility dedicated to addressing and supporting the mental well-being of individuals facing various psychological challenges. These centers serve as crucial resources for individuals experiencing anxiety, depression, bipolar disorder, schizophrenia, post-traumatic stress disorder (PTSD), and other mental health disorders[1].
At mental health centers, a multidisciplinary team of professionals, including psychiatrists, psychologists, social workers, counselors, and nurses, collaborate to provide comprehensive care. They offer various services tailored to each individual's unique needs. These services may include initial assessments, diagnosis, therapy (such as cognitive-behavioral therapy or psychotherapy), medication management, crisis intervention, counseling for individuals and families, support groups, and referral to community resources[3][2].
Mental health centers aim to create a safe and supportive environment where individuals can openly discuss their concerns without fear of judgment. They prioritize confidentiality, respect, and empathy in their interactions with clients. Through evidence-based approaches, these centers provide personalized treatment plans to help individuals navigate their mental health challenges, develop coping strategies, improve self-esteem, enhance overall functioning, and achieve recovery[8].
What Services are Available at the Mental Health Center?
Mental health centers provide a wide range of services to address the diverse needs of individuals facing mental health challenges. These services aim to enhance mental well-being, offer support, and aid recovery. Some standard services available at mental health centers include[2][7]: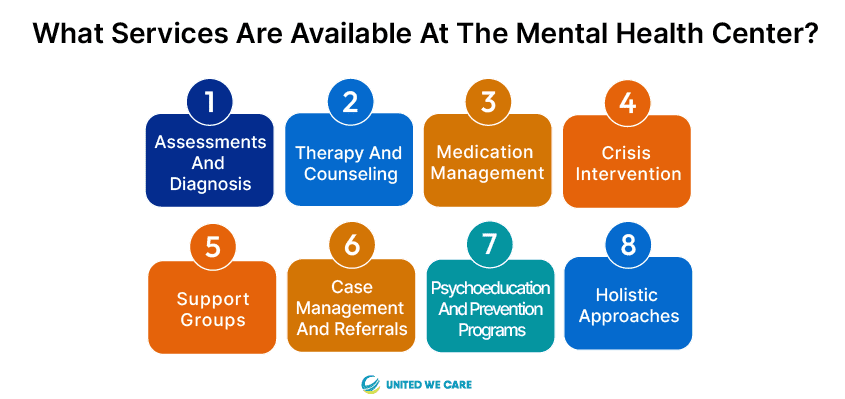 Assessments and Diagnosis: Mental health professionals conduct thorough assessments to evaluate an individual's symptoms, concerns, and overall mental health status. They use diagnostic tools to identify mental health conditions and develop appropriate treatment plans.
Therapy and Counseling:

Mental health centers offer various forms of treatment, such as individual therapy, group therapy, and family therapy. These therapeutic interventions explore underlying issues, enhance coping skills, improve relationships, and promote emotional healing.

Medication Management:

Psychiatrists or psychiatric nurse practitioners may provide medication evaluation and management for individuals requiring pharmacological intervention as part of their treatment plan. They monitor medication effectiveness, adjust dosages, and provide necessary support and education.

Crisis Intervention:

Mental health centers often have crisis services to address urgent situations. These services may include a crisis hotline, emergency assessments, and intervention to provide immediate support during acute distress or suicidal ideation.

Support Groups:

Support groups bring individuals with similar mental health concerns together to share experiences, provide mutual support, and learn from one another. These groups offer a sense of community and understanding.

Case Management and Referrals:

Mental health centers may provide case management services to help individuals navigate the healthcare system, access resources, and coordinate their care. They may also refer clients to specialized services, such as substance abuse treatment or vocational training.

Psychoeducation and Prevention Programs:

Mental health centers often offer educational programs and workshops to increase awareness, provide information about mental health conditions, teach coping skills, and promote preventive strategies for maintaining mental well-being.

Holistic Approaches:

Some mental health centers incorporate complementary and alternative approaches, such as art therapy, music therapy, mindfulness-based practices, or yoga, to support overall wellness and healing.
Who can Benefit from Using a Mental Health Center?
A mental health center can benefit a wide range of individuals experiencing mental health challenges or seeking support for their emotional well-being. Here are some groups of people who can benefit from using a mental health center[2][3][4]:
Individuals with Mental Health Disorders:

Those diagnosed with anxiety, depression, bipolar disorder, schizophrenia, PTSD, eating disorders, or substance abuse disorders can benefit from the specialized services and treatments available at mental health centers.

Individuals in Crisis:

People facing acute distress, suicidal thoughts, or other mental health emergencies can find immediate support and intervention at mental health centers. Crisis services can provide a safe and supportive environment during heightened vulnerability.

Individuals needing Diagnosis:

Those experiencing undiagnosed symptoms or seeking clarity about their mental health concerns can receive comprehensive assessments and diagnostic evaluations at mental health centers. This process can help clearly understand their condition and guide appropriate treatment.

Individuals Seeking Therapy and Counseling:

Anyone who requires professional support for personal growth, emotional healing, stress management, relationship issues, or trauma recovery can benefit from the therapy and counseling services offered at mental health centers.

Families and Loved Ones:

Mental health centers often extend their services to family members and loved ones of individuals with mental health disorders. They provide education, counseling, and support to help family members understand and cope with their loved one's condition.

Individuals Seeking Preventive Care:

Mental health centers offer programs and services that promote mental well-being and prevent mental health issues. These preventive approaches can benefit individuals looking to enhance their resilience, learn coping skills, and maintain optimal emotional health.

Individuals needing Medication Management:

Those requiring medication to manage their mental health conditions can benefit from the expertise of psychiatrists or psychiatric nurse practitioners at mental health centers. These professionals can provide appropriate medication evaluations, monitoring, and adjustments as part of a holistic treatment plan.

Individuals in Need of Community Support:

Mental health centers often create a sense of community and belonging for individuals who may feel isolated or stigmatized. Engaging with support groups, peer networks, and community events offered by these centers can provide social connections and a supportive environment.
Mental health centers aim to assist individuals of diverse ages, backgrounds, and mental health conditions. They provide services to meet the diverse needs of individuals. They offer services to provide personalized care, support recovery, and promote overall mental well-being for those seeking assistance.
Are There Any Risks Associated with Using Mental Health Centers?
While mental health centers can provide helpful support, it's essential to acknowledge that there may be potential risks associated with using their services. Here are some considerations[5][6][8]: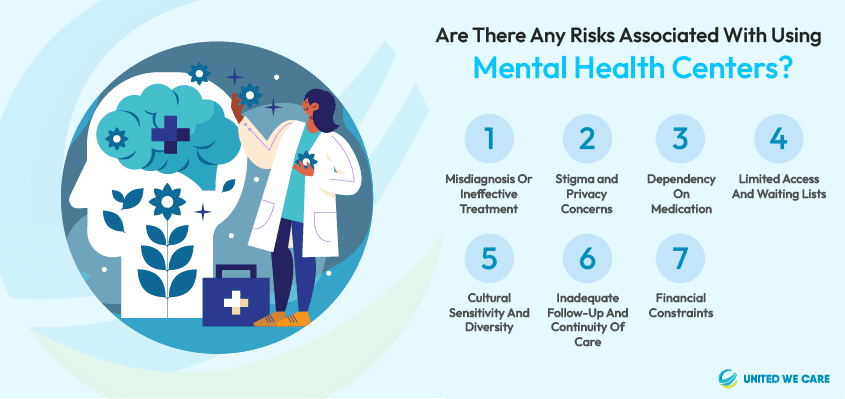 Misdiagnosis or Ineffective Treatment:

There is a possibility of misdiagnosis or receiving treatment that may not be suitable or effective for an individual's specific condition. Ensuring proper assessment and ongoing evaluation is essential to address this risk.

Stigma and Privacy Concerns:

Individuals may be concerned about the stigma of seeking mental health services and the potential breach of privacy. Mental health centers must prioritize confidentiality and create a safe, non-judgmental environment to mitigate these risks.

Dependency on Medication:

Overreliance on medication without exploring alternative therapies or comprehensive treatment plans can pose dependency risks or adverse side effects. A balanced approach that considers various treatment modalities is crucial.

Limited Access and Waiting Lists:

Mental health centers may have limited capacity or long waiting lists, resulting in delays in receiving necessary care.

Cultural Sensitivity and Diversity:

Mental health centers should strive to provide culturally sensitive and inclusive care. Failure to do so may result in individuals feeling misunderstood or experiencing barriers to effective treatment.

Inadequate Follow-up and Continuity of Care:

Mental health centers must offer proper follow-up and ensure consistent care. It's important to monitor progress and adjust plans as needed to provide effective treatment. Additionally, it's crucial to facilitate smooth transitions between healthcare providers.

Financial Constraints:

Affordability and insurance coverage can be potential barriers to accessing mental health center services. A lack of financial resources may limit an individual's ability to receive ongoing care and support.
To mitigate these risks, mental health centers must prioritize professional competence, ethical practices, individualized care, ongoing evaluation, and transparent client communication. Collaborative decision-making and active involvement of clients in their treatment can address potential risks and ensure the best possible outcomes.
Conclusion
Mental health centers are crucial in providing comprehensive support for individuals facing mental health challenges. They offer a range of services tailored to individual needs. 
United We Care, a mental wellness platform, enhances accessibility by providing online counseling, resources, and community support to promote mental well-being.
REFERENCES
[1] "Hospital – care for mental illness, addiction, and long-term care in private settings," Encyclopedia Britannica
[2] M. Kendra Cherry, "What treatments are offered at a mental hospital?," Verywell Mind, 23-Jun-2022. [Online]. Available: https://www.verywellmind.com/what-is-a-mental-hospital-5425533. [Accessed: 30-Jun-2023].
[3] "Different types of mental health treatment," familydoctor.org, 07-Feb-2018. [Online]. Available: https://familydoctor.org/different-types-mental-health-treatment/. [Accessed: 30-Jun-2023].
[4] "The importance of mental Health Awareness Month," Lifespan. [Online]. Available: https://www.lifespan.org/lifespan-living/importance-mental-health-awareness-month. [Accessed: 30-Jun-2023].
[5] M. Briner and T. Manser, "Clinical risk management in mental health: a qualitative study of main risks and related organizational management practices," BMC Health Serv. Res., vol. 13, no. 1, p. 44, 2013.
[6] N. Ahmed et al., "Mental health professionals' perceived barriers and enablers to shared decision-making in risk assessment and risk management: a qualitative systematic review," BMC Psychiatry, vol. 21, no. 1, 2021.
[7] "Mental illness," Mayoclinic.org, 13-Dec-2022. [Online]. Available: https://www.mayoclinic.org/diseases-conditions/mental-illness/diagnosis-treatment/drc-20374974. [Accessed: 30-Jun-2023].
[8] D. Alonzo, "Pros and cons of mental health treatment: reports from depressed clients with suicidal ideation," J. Ment. Health, vol. 31, no. 3, pp. 332–339, 2022.
Unlock Exclusive Benefits with
Subscription