Lack Of Social Skills In Kids? 7 Steps That Can Help You
What is the problem behind the lack of social skills in young children? It's a question that parents are asking. And why wouldn't they? Think about it. If a child cannot make friends, plays alone, and doesn't seem to notice or mind, this profoundly impacts their lives. They're likely to struggle with social anxiety and other psychological problems later on in life. While various factors contribute to this problem, parents profoundly teach their children to interact with people appropriately. This blog will provide parents with seven stevens to help their child who's lacking social skills [1].
What is the problem of lack of social skills in kids?
The lack of social skills can lead to difficulties with relationships, depression, anxiety, and a shared sense of belonging. As such, lack of social skills in young people is a matter of concern in the same way as any other developmental delay that could have negative consequences later on. The most common social skills problems in children are a result of one of the following:
Shyness
Many children are naturally shy and need help to get along with others. Nervous children will often be quiet and won't engage in group activities. They also tend to trust adults more than other kids their age because they haven't had much exposure to them.
Fear of getting in trouble
Some kids are afraid of doing the wrong thing, so they never make any decisions for themselves and try not to stand out from the crowd.
Bullying
Bullies have no problem making decisions for others because they like to control them and make them feel bad about themselves. They'll often pick on younger kids or kids who are shy or less popular with their peers.
Family environment
Children who grow up in families where there's a lot of fighting or tension around them may be less likely to develop good social skills. If a child perceives that their parents have problems interacting with each other, they're more likely to have problems themselves. 
Looking for services related to this subject? Get in touch with these experts today!!
Experts
What to do about the Lack of social skills in kids?
Lack of social skills in kids can be a problem since these skills are vital for every child's development. A child's capacity for social interaction, communication, and emotional intelligence is key to how well that child will develop later on in life [2]. 
If you're a parent, one of your primary concerns is to nurture your child's social skills. How to do that? By treating the problem. If the child lacks the social skills department, the best thing to determine is what prevents them from making friends. For example, if they have trouble making eye contact when speaking to others, then, in this case, the parent should try to get them to practice making eye contact. However, try not to be too pushy about it; if the child doesn't want to look at someone while talking to them, let it go for now and work on it later.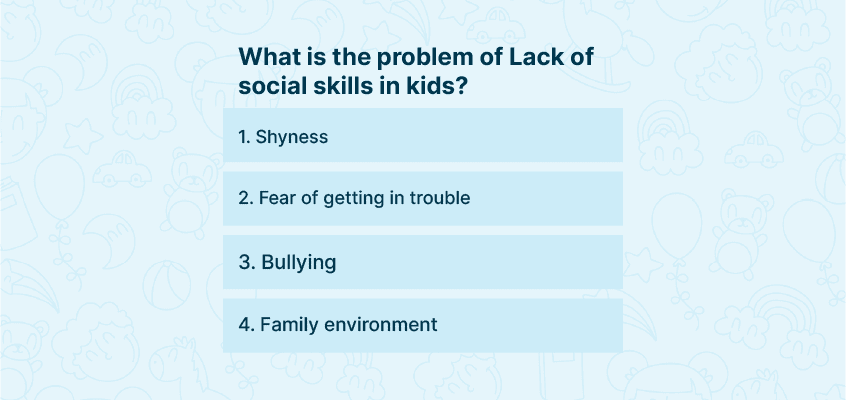 7 steps which help your kid to avoid Lack of social skills in kids
Social skills are an essential life skill that many children lack. Children who struggle with social skills often have difficulty making friends and tend to be rejected by their peers. They may also have trouble getting along with teachers and other adults at school. Hence the earlier one starts to work on them, the better. Here are seven ways to help a child who lacks social skills:
Step 1: Teach the child how to shake hands and look someone in the eye when speaking to them.
Step 2: Encourage the child to compliment others on their clothes or hair.
Step 3: Help the child respond when someone asks for help. Parents can practice this with their kids by giving them several scenarios.
Step 4: Teach the child how to introduce themselves by name and state where they live.
Step 5: Always encourage the child to participate in class conversations and answer questions from their classmates about what they did over the weekend, for example, or where they like to go for fun.
Step 6: When parents are out together with their kids, they should encourage them to talk about what they see, like a store's window display or a car going by.
Step 7: Role-play situations with the child to practice greeting someone, asking for directions if lost, or saying thank you when the waitress brings the food to a restaurant.
What not to do about the Lack of social skills in kids?
Although one might be worried that their child needs extra help to succeed with social skills, it is essential to be aware of what not to do [3]. Here are a few things one should avoid while helping their kids with lacking social skills:
Don't push them
Parents should not do the number one thing that parents should not do if their child lacks social skills to push them into situations they are not ready for. If you sense that your child is nervous about an impending crisis, talk to them about their feelings and encourage them to take things slower if needed.
Don't compare them to others.
When parents compare their children to others or think something is with them, it can hurt how they perceive themselves. Remember that not every child will be outgoing and gregarious, which may be perfectly normal for an introverted child. The trick is to help children learn how to interact with people effectively without feeling overwhelmed by it.
Conclusion
Social skills are necessary for a child's development for several reasons. Getting along with others is an essential requirement for success in school, relationships, careers, parenting, etc. Finally, these skills are an integral part of a child's ability to form relationships with others and succeed in life. Henceforth, the better developed these skills are at an early age, the more likely the child will succeed socially and academically. We hope that parents will help their child who lacks social skills lead a better life with these seven steps.
United We Care is a leading national network of licensed mental health professionals who help their clients develop skills to manage the symptoms of their mental health disorders effectively and live better lives. Learn more about their services and areas of expertise HERE!
Few related articles you may also check out.
7 Parenting Tips for Kids with ADHD
Internet Addiction in Kids? 7 Simple Steps That Can Help
Seven Simple Ways to Improve Your Concentration And Focus
References
| | |
| --- | --- |
| [1] | S. N. Elliott and F. M. Gresham, "Social skills interventions for children," Behav. Modif., vol. 17, no. 3, pp. 287–313, 1993. |
| [2] | S. Cartwright-Hatton, N. Tschernitz, and H. Gomersall, "Social anxiety in children: social skills deficit, or cognitive distortion?," Behav. Res. Ther., vol. 43, no. 1, pp. 131–141, 2005. |
| [3] | C. Di Rocco, A. Iannelli, and G. Tamburrini, "Cavernomas of the central nervous system in children: A report of 22 cases," Acta Neurochir. (Wien), vol. 138, no. 11, pp. 1267–1274, 1996. |
Unlock Exclusive Benefits with
Subscription