Introduction
Did you know over 83% of people in the U.S.A. suffer from work-related stress? In India, 7 out of 10 employees experience stress every week. Over 30% of employees feel stressed for nearly half a month.
It shows that stress and anxiety are real things that we can no longer overlook. Moreover, after the pandemic, the numbers have been staggeringly increasing, which is why companies are trying to enrol industrial psychologists that can help companies to deal with issues like stress and anxiety and consecutively boost productivity.
You might be wondering what an industrial psychologist is! This article will cover what industrial psychologists are, what they do, how they can help your business, and how you can find a psychologist who is right for your business.
Without further ado, let's get started!
Industrial Psychologist
An organisation's culture, team member behaviour, and working practices are studied and evaluated by industrial psychologists, who then develop or suggest programs and procedures to boost worker productivity and organisational performance.
Simply put, industrial or organisational psychology studies how people behave at work. It primarily focuses on examining team member, group, and organisational dynamics to find answers to issues that enhance the performance and well-being of a company and its employees.
What Does an Industrial Psychologist Do?
Industrial-organisational (I-O) psychologists boost team members' productivity and well-being, which helps a business succeed. An industrial psychologist studies how recruiting procedures, training curricula, and feedback mechanisms might enhance behaviours and attitudes. 
Industrial-organisational psychology consists of two main categories. Firstly, there is the industrial side, which focuses on finding the most effective ways to match people to specific work tasks. Personnel psychology is another name for this area of Industrial psychology.
Team member traits may be evaluated by those who work in this field, who may place the employees in positions that are qualified to conduct effectively.
The dual role of industrial psychology is team member training, developing work performance criteria, and measuring the ability to do the job. The organisational branch of psychology is mainly concerned with determining how organisations influence people's behaviour. People's actions inside an organisation depend on several variables, including management systems, cultural standards, management styles, and job expectations.
How Can An Industrial Psychologist Help Your Business?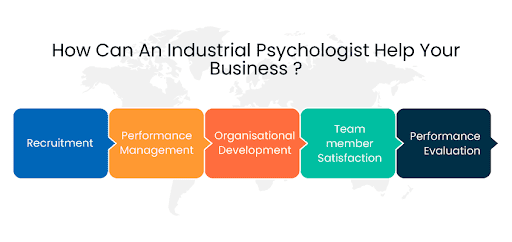 There are several ways in which an industrial psychologist can help your business. Let us look at some of them:
Recruitment
Industrial psychologists work with the human resources division to design hiring procedures and make selections. It includes job announcements, identifying essential skills, and creating selection tests.
Team member Training
Industrial psychologists do job studies to identify the knowledge, skills, and aptitudes required to carry out a particular work successfully. The knowledge and understanding from these studies help create and assess staff skill-building and training initiatives.
Performance Management
By creating and implementing performance evaluations, detecting skill gaps, and offering feedback and recommendations, industrial psychologists assist firms by measuring and managing team member performance. These assessments provide information frequently used to guide choices about pay and promotions.
Organisational Development
Performance management and structure are the focus of this subfield of industrial psychology. An organisation would hire an industrial psychologist to assess how effective, lucrative, and productive the organisation is and to help with issues related to corporate culture and fundamental organisational changes.
Team member Satisfaction
Occupational health, productivity, security, and well-being are all issues addressed in this industrial psychology branch. In this sense, the industrial psychologist's job is to assess employees' job satisfaction and well-being, develop strategies to improve the workplace, and, if required, implement work-life balance programs.
Performance Evaluation
By creating and carrying out performance reviews, detecting skill shortages, and offering comments and suggestions, organisational psychology assists businesses in managing and measuring team member performance. Decisions on pay and promotions frequently consider the team members' feedback from these assessments.
The Benefits Of An Industrial Psychologist For Business
Let us look at some of the benefits of an industrial psychologist:
By encouraging more optimistic thinking among workers, industrial psychology helps boost productivity.

A psychologist may be able to assess, restructure employment, and decide on pay scales with the aid of industrial psychology.

With the help of industrial psychology, an organisation can reduce unproductive conduct, improve teamwork, motivate the employees, and avoid unsavoury events.

To fulfil goals efficiently and on schedule, an organisation must foster positive connections among its members and various groups.

Industrial psychology may lessen team member annoyance through good staff advancement and incentives.

Enhancing mental health and developing positive personality traits can provide competent leadership.

Many businesses successfully keep their staff by utilising psychological understanding since they know how to keep people content and create a better work atmosphere.

By demonstrating appropriate staff incentives and advancement, industrial psychology may lessen team member annoyance.
How To Find An Industrial Psychologist That Is Right For Your Business?
To address particular challenges or problems in the workplace, create and sustain a healthy environment, and improve individual and organisational performance, employers can use the assistance of an industrial psychologist. Companies can choose either an in-house psychologist or a consultant psychologist.
In the unavailability of an on-staff industrial psychologist, companies can still utilise and apply the concepts of industrial psychology in their business. Still, team member evaluations should be conducted, analysed, and given feedback by a professional consultant.
Conclusion
Organisational psychology assists businesses in evaluating individuals' aptitudes, perspectives, and potential to meet organisational objectives while advancing their personal and professional growth. They improve team member communication and let you assess personalities and working methods. An organisation's members naturally cooperate better when they share the same objectives and moral principles.