Introduction
When people think about disorders like ADHD, they think about the challenges associated with it. Rarely, do people talk about those individuals who thrived with this disorder and made it into a strength. Jessica McCabe is one such personality. She worked hard, did not give up, and  turned her ADHD into her biggest strength. 
Who Is Jessica McCabe?
Jessica McCabe is a social media influencer who works extensively on the topic of ADHD (Attention Deficit Hyperactivity Disorder). She is also an actor, a writer, and a YouTuber who created the channel "How to ADHD" [1].
McCabe received an ADHD diagnosis at the age of 12 after facing struggles in school. Although she received help when in school, the support provided was not enough. As a result, McCabe faced innumerable challenges and frustrations that are associated with the disorder and was well in her 30s when she realized that she might be failing because the world is not accommodating her ADHD. It was after this realization that she started self-educating and learning about her disorder [2]. 
Eventually, what she started as a journey to liberate herself became a journey to liberate many other ADHD sufferers. In order to educate the world on ADHD Jessica launched her YouTube channel, "How to ADHD,". This channel provided practical guidance and solutions for problems that arise with this disorder. Later she also found a website, "howtoadhd.com," to help compile all the information [3]. 
Her videos with practical strategies on issues around ADHD have inspired many viewers. People were able to learn skills like time management, organization, and emotional regulation with her videos. But the biggest impact was that with her guidance, people could learn to accept themselves and their ADHD brains. 
How Is Jessica McCabe an Inspiration to the Small Business Community? 
Jessica McCabe is a small business success story. Once broke, divorced, and unemployed, Jessica McCabe found solutions for not only her problems but problems that many others face while struggling with ADHD. She channelized these solutions and came up with a business that is helpful for the community and became a successful entrepreneur with millions of subscribers and views on her YouTube channel [3]. 
Where many individuals see ADHD as a disability that causes inattention, impulsivity, and hyperactivity, McCabe learned to see strengths in the ADHD brain [2]. 
Small business owners can use Jessica McCabe's story to learn the importance of: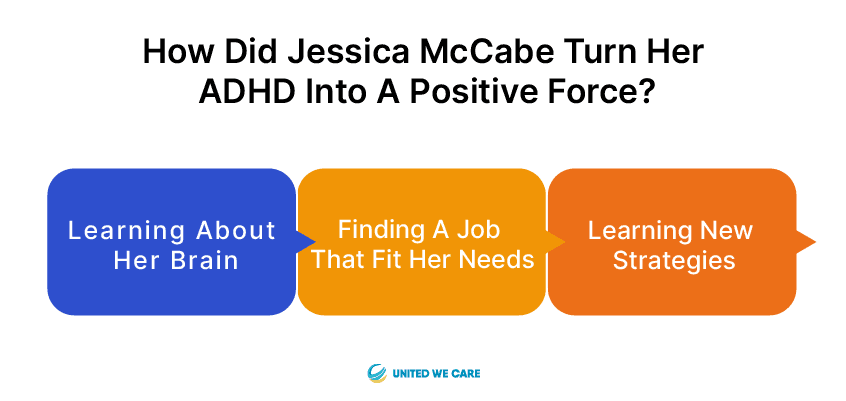 Facing Challenges: McCabe faced her challenges head-on by understanding what issues arise with ADHD and how a person can channel them into positive outcomes. 
Combining Passion with Science: McCabe combined her personal passions, beliefs, and problems with research and scientific information so that her work became practical, effective, and helpful for her consumers.
Strong Networking: Networking and staying actively involved with leading organizations and experts in the field one is working is a cornerstone for success. McCabe networked with both researchers and organizations to stay up-to-date with the latest research and technology in ADHD.
Accepting one's strengths and Limitations: Self-acceptance and resilience are traits small business owners must imbibe. Jessica accepted her shortcomings and integrated them into her business model. She succeeded because she did not resist these issues, rather used them in the best possible ways. 
Finding fitting solutions: You rarely get things served on a platter. You have to find what works for you and keep the hit and trial method going. Jessica's story shows how she found solutions that worked for her and succeeded. 
Overall, Jessica McCabe's insights and value-driven personality makes her an important figure within the small business community as well as in the ADHD community.
How Did Jessica McCabe Turn Her ADHD Into A Positive Force?
Jessica McCabe recalls her journey and shows how she turned her ADHD into a positive force in her viral Tedx Talk, "Failing at Normal: An ADHD Success Story" [2]. After facing struggles and constant failures in her life, she made a resolve to solve her problems. Thus, she embarked on her journey as follows [2]: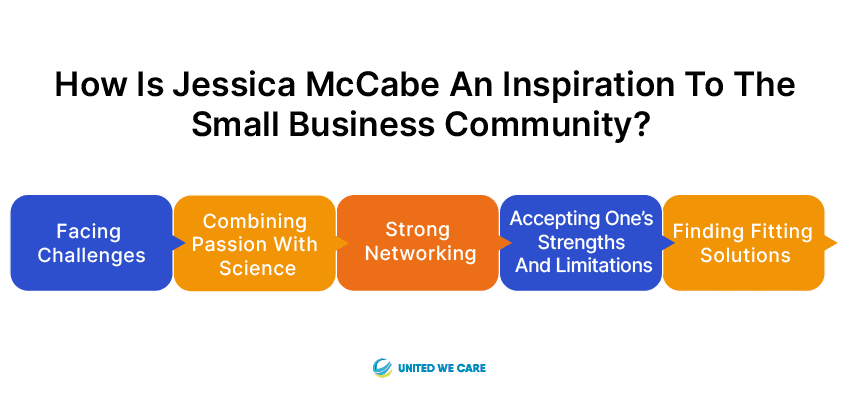 Learning about her brain: She knew that her struggles were related to ADHD, so she dived deeply into the available information to learn about her ADHD brain. The more she explored, the more understanding she developed about how ADHD brains are different and one cannot expect them to adjust to a society that is made for neurotypical individuals.
Finding a job that fit her needs: She had been unemployed and failing at jobs. Eventually, McCabe realized that she needed a job in which her ADHD brain could work well because ADHD brains are good at some types of jobs but might struggle at others. Once she cracked this code, she found her purpose and profession.
Learning New Strategies: She kept exploring and learning strategies to cope with and manage her ADHD. She understood that her brain required more stimulation than others and she struggled with the skill of executive functioning which made her performance poor. Once she gained this clarity, she could find solutions to these issues and work efficiently. 
People with ADHD have many strengths like creative thinking, working under pressure, or working on unfamiliar tasks [2]. Jessica was able to move past the symptoms of ADHD and see the strengths of an ADHD brain. 
What Is The Positive Role of Jessica McCabe in Our Society?
Society perceives people with developmental disorders like Autism, ADHD, and SLD as "disabled". This results in exclusion of these individuals from mainstream society. Individuals like Jessica McCabe are actively fighting to make the world more inclusive [6]. 
McCabe is advocating for broader changes to create a more ADHD-friendly world. By investing herself in projects like a virtual summit on ADHD, developing new guidelines to assess ADHD-friendly products, and promoting items like computer programs that aid meditation for restless users, her efforts are bound to increase inclusivity, empower individuals with ADHD, and reduce stigma [4]. 
Conclusion
Jessica McCabe's journey of turning her ADHD into a positive force has been a motivating story for many people across the world. With her educational content, genuine dedication, and practical solutions for problems around ADHD, she has managed to not only shatter the stigma around the disorder but also inspire and help many individuals suffering from it. 
If you are struggling to manage ADHD, you might benefit from personalized sessions with experts at United We Care. United We Care's experts are committed to providing the best care and advice for your well-being. 
References
Unlock Exclusive Benefits with
Subscription