Conflict Management in Relationships (Basic)
Relationships should bring comfort and upliftment, but conflicts are inevitable. Our course focuses on personality assessment, pattern and trigger identification, mindfulness practice, and emotional regulation to healthify conflict management and resolution in relationships.
Healthifying conflict management
Better understanding of conflicts and their underlying reasons
Personality type identification
Importance of self-awareness
Importance of trust-building
Busting myths about conflicts
Body scan meditation
Understanding and managing one's own triggers
Knowing your attachment style
Learning to manage your anxiety
Getting started with journaling
Emotional regulation through art therapy
Inner child healing through guided meditation
Understanding emotions better and building an emotional quotient (EQ)
Thought resolution through mindfulness practice
Love language quiz
Learning to find common ground and common interests
Court-room activity
Imbibing forgiveness through mediation
Tips and quick pointers brochure
Why should you take this course?
Our course takes you on an introspective journey to work on your inward and outward responses. Efficient conflict resolution requires awareness of your personality and behaviours, openness to work on them, and consideration of alternate perspectives. Through explainers, activity videos, worksheets, quizzes, and questionnaires, our course provides the most effective conflict management toolkit. Emotion-intensive modules aim to build a long-term atmosphere of conflict resolution among partners.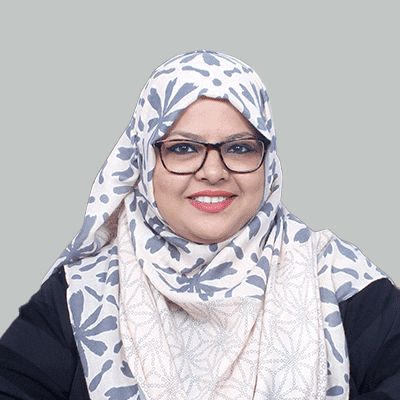 Farhat is a relationship transformation coach with 4 years of experience in building better bonds for people in romantic & professional relationships. She believes in activity based sessions which turn out to be instrumental in a person's healing journey.
Conflict Management in Relationships (Basic)
Start Resolving Conflicts Now!