Find the love you deserve through online dating
Have you ever felt scared of entering the online dating world?
Do the horror stories around ghosting, getting stalked or even finding the wrong partners dissuade you from online dating?
Do you constantly land in poor relationships despite the dating App recommending the match?
If this is your story then this workshop is for you.
This workshop doesn't give you any self-defence training but it equips you with tools that will help you preserve your mental peace through your quest to find the right partner. 
Why should you take this course?
This carefully crafted program by our team of experts helps you dive deep into your inner world & build your understanding around your own behavioural patterns so that you can break them and get out of the cycle of landing the wrong relationships each time. This is effective for online dating but could give you an understanding of yourself & help you apply this knowledge to your offline quest to find the right partner as well.
Understand your own behavioural patterns & expectations

Building a healthy initial conversational approach

Identifying the red & green flags

Dealing with anxiety around online dating

Navigating self-esteem issues

Understanding both sides of ghosting

How to preserve your emotional health through poor dating experiences
A pen & paper to make notes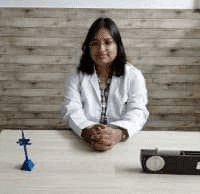 Ruchi Garg is a counselling psychologist with expertise in helping her clients with building resilience, cope with stress in healthy ways & problem-solving skills. Her sessions on relationships have helped several of her clients in building healthier bonds with their families.
I never understood why I always got ghosted or found the wrong men online. Until I did this course & realised my own patterns that were coming in the way of my happiness

Read more

"I am 40 years old and single so I thought of exploring the dating sites but hearing stories of my cousins & friends I wondered if exploring a dating site is even a good idea. Thanks to this program I fathomed the courage to get started on the journey and also know the right way to go about it."

Read more
Trouble finding the right partner or maintaining relationships is one of the toughest problems we face on a daily basis. This could be a reflection of our relationship with our own self as well. Developing a stronger deeper relationship with your own self can give you so much perspective that the journey to seek the right partner becomes rather easier. A person who knows what truly they need would be much clearer about what they seek. You can explore our content repository for more information or speak to an expert for further guidance.